Enter content here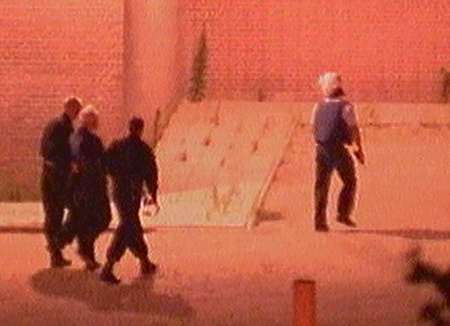 Former Yugoslavia President Slobodan Milosevic (L) is escorted by Dutch police officers after arriving at Scheveningen Prison near The Hague early June 29, 2001. Milosevic, widely blamed for a decade of bloody ethnic cleansings in the Balkans, is in jail facing charges of crimes against humanity. He will be the first head of state to be tried for war crimes carried out while in office. (NETHERLANDS OUT - MANDATORY CREDIT) REUTERS/SBS-6 TV
US EMBASSY DENIES INVOLVEMENT OF US RETIRED OFFICERS IN TRAINING OF TERRORISTS.
MIA
Skopje, June 29 (MIA)-The US policy regarding such violent groups as the so-called NLA is absolutely clear - it does not support their violent actions in any way, the US Embassy to Macedonia says in a statement issued Friday.

The implication that retired US military officers were involved in Aracinovo training the NLA is outrages.

The US Embassy in Skopje completely denies that such 17 "trainers" were present in Aracinovo as implied by an article in the German newspaper "Hamburger Abendblatt" on June 28. In addition, no such individuals were involved during, or present in Aracinovo during the evacuation of the so-called NLA extremists on June 25. There is absolutely no credibility to this report. Journalists should check sources before printing allegations.

The Embassy considers it extremely unfortunate that other press reports have cited the Hamburger Abendblatt article, without seeking clarification from the US Embassy, the statement reads.
Democrats Start Talks With NMS II Today.
Standart
The invitation for the consultation was made by NMS II on Wednesday. The coalition revealed that the talks are only preliminary. The real negotiation is still to come. The next party with which the King's men will talk is the MRF. The future premier is not yet nominated. We must first be definite on the principles of the coalition and after on the people to choose, said the associate professor Panayotov. Simeon II himself denied the information that he had agreed to head the government. 'I hear for the first time. To my mind it would be unfair as far as the public opinion is concerned to speak constantly on the topic and to make speculations on the theme' he said.

Anelia Basheva
Theodora Bozhkova
Sofiyanski: the King Must Keep Experts.
Standart
Without these people the continuity in the politics is not possible, the mayor of the capital is sure.

The new government must preserve all quality cadres of the second ruling level - deputy ministers, department chief, experts, said Stefan Sofiyanski at the dinner party on Tuesday night with Simeon II in Vrana residence. It is necessary to preserve all proved specialists which are not politically abused, added the mayor. Without these people the continuity in the politics is not possible, said Sofiyanski. The King had agreed with him. The two did not discuss the future cabinet. I expressed my views of the priorities which the government must follow. I think I had the right to do that after 12 years in the administration, Sofiyanski said.

Silvia Nikolova