Enter content here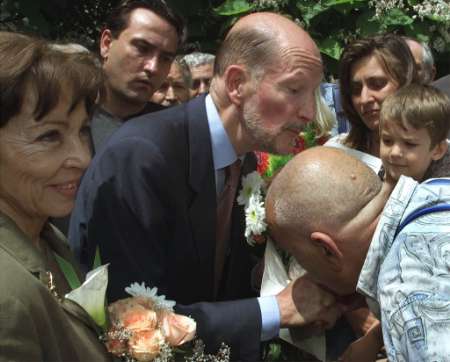 An elderly man (R) kisses the hand of Bulgaria's former King Simeon II (C) as his wife Marguerita (L) smiles during their pre-election trip to the town of Blagoevgrad, some 100 south of Sofia, June 13, 2001. Simeon, the first ex-monarch in eastern Europe to enter active politics, set up in early April a formation seen as a frontrunner for the June 17 general election. REUTERS/Oleg Popov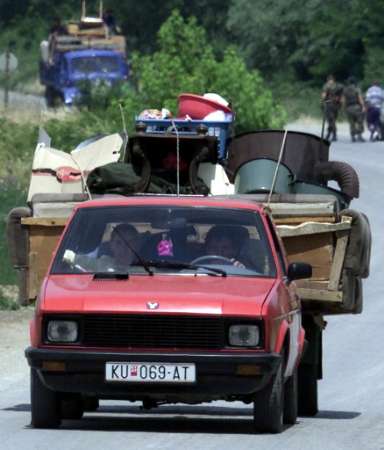 A car loaded with the belongings of a Macedonian Slav family passes through a checkpoint on the outskirts of Kumanovo, June 13, 2001 as the Slav population from the villages near the front line leave. A ceasefire between Macedonian forces and ethnic Albanian guerillas in force since Monday also permitted the Red Cross to evacuate ethnic Albanian civilians. REUTERS/Radu Sigheti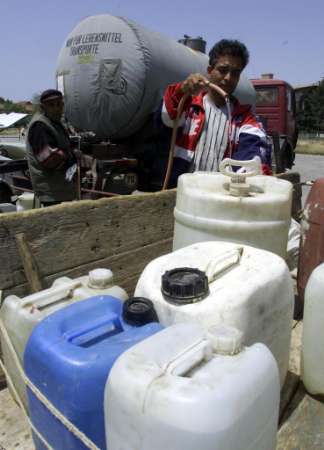 A Kumanovo resident fills plastic bottles with water from a tanker, June 13, 2001 after water supplies were cut off from a reservoir in an area controlled by ethnic Albanian rebels. Both Macedonian Slavs and ethnic Albanian inhabitants are suffering the misery together and taking water from NATO led KFOR troops and from neighboring Bulgaria. The guerrillas denied turning off the taps. REUTERS/Radu Sigheti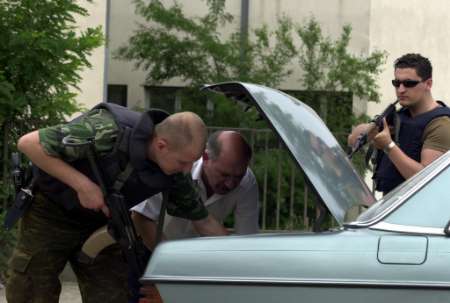 Macedonian policemen check a car at the road block in front of Aracinovo village, June 13, 2001. The rebel National Liberation Army, who says it is fighting for more rights for ethnic Albanians, took control of Aracinovo village four days ago and Macedonian police restricted access in the area. REUTERS/Ognen Teofilovski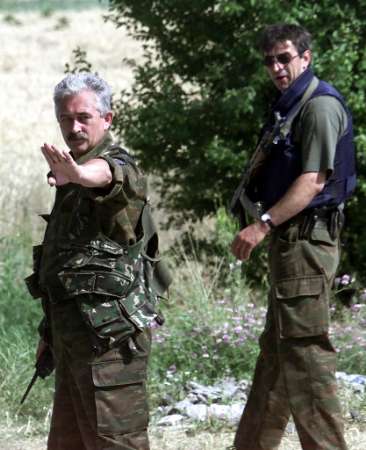 A Macedonian policeman stops the trucks of a humanitarian aid convoy, June 13, 2001 outside Kumanovo. Wednesday was the third day in a row that Macedonian police blocked the 26-truck convoy from ferrying supplies to villages occupied by ethnic Albanian rebels. The government is making it wait while a deal is thrashed out to allow engineers access to the reservoir supplying Kumanovo, which also lies behind rebel lines. The guerrillas deny turning off the taps. REUTERS/Radu Sigheti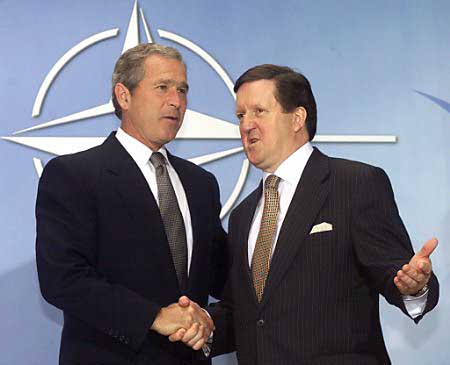 NATO Secretary General George Robertson will visit Macedonia on June 14, 2001 for talks with the government about ways to end a four-month insurgency by ethnic Albanian rebels, a presidential spokeswoman said June 13 in Skopje. Robertson is seen welcoming President George W. Bush upon his arrival at the Alliance headquarters in Brussels, June 13. (Yves Herman/Reuters)
PRESS CONFERENCE OF THE MACEDONIAN GOVERNMENT.
MIA
Antonio Milososki, spokesperson of the Macedonian government, informed that the Government completely approves the plan of Macedonian President Boris Trajkovski for solving the crisis, disarming the terrorists, and restoring the peace in Macedonia at Wednesday press conference. Milososki expressed gratitude to the European Union and the USA for their support to the plan, and hope that they would also participate in the realisation of the plan.

"This plan should restore peace, contrary to the wishes of those who create war and conflicts in Macedonia" Milososki pointed out, adding that "those who conspire war will be defeated".

The Government's spokesperson appealed to all international humanitarian organisations present in Macedonia, including the World Health Organisation, "to use their authority and pressure the terrorists to allow the restoring of the regular water supply to Kumanovo".

He expressed his concern over "the porosity of the Kosovo part of the border between Macedonia and Yugoslavia". According to Milososki, the intelligence services confirmed the information that 250 to 300 terrorists, in groups of 15 to 20 people, have illegally crossed the border at the Karanikola Lake, to the south of Kobilica.

He also confirmed the information of increased activities of terrorists at the Kosovo side of the border, and pointed out that "most probably several hundred terrorists will attempt to enter Macedonia in the next few days". Milososki appealed to NATO and KFOR to be maximally cautious, and expressed his hopes that "the authority of the NATO Ambassador Hans-Joerg Eiff would be enough to overcome the previous mistakes".

Macedonian Defense Ministry spokesperson, Gjorgji Trendafilov informed that during Wednesday the Macedonian Army will not undertake armed activities in the Kumanovo region, according to the decisions of the Macedonian Government.

"The Army has focused on reconnaissance activities, due to the regrouping of the Albanian terrorists" Trendafilov said.

According to him, 300 people, mostly women and children, left the village of Lipkovo on Tuesday, and were intercepted by the humanitarian organisations.

"On Tuesday, around 12:00 there were several armed provocations of the Albanian terrorists in the area of the villages of Slupcane and Orizare, as well as in the part of Matejce that is predominantly populated by Macedonians" Trendafilov said.

He added that at the same time a diversion-terrorist group opened fire at the Macedonian security forces near the locality Crven Kamen.

"The Macedonian security forces opened fire against them once their exact location, to the north of the Sipkovica mosque, was confirmed and destroyed part of the group. The rest of the terrorist retreated to the north, toward the border with Kosovo" Trendafilov pointed out.

Asked whether the Government discussed the idea for deployment of international forces on Macedonian territory, Milososki said that the plan that Macedonian President Boris Trajkovski suggested foresees cooperation with KFOR and NATO troops. In this context, he said, "there is opened space for cooperation with international forces", but did not specify how would this cooperation be defined.

Milososki said that there is no need to panic in relation to the alleged all-Albanian uprising that was announced for June 16. ""Those who decided to turn to violence, rebellion, armed conflicts and war will be defeated" Milososki said, adding that the situation is complicated but that Macedonia must win this battle. "All Macedonian citizens should keep their trust in the Macedonian security forces. The armed bandits who are trying to threaten Macedonia with weapons are the ones that should be afraid" Milososki said.

Asked to comment the role of the Macedonian Labor and Social Policy Minister Bedredin Ibraimi in the humanitarian convoy that tried to enter Lipkovo, Milososki expressed his regrets because the convoy failed to enter Lipkovo because of the "provocations of the terrorists who set Matejce on fire". "I am convinced that Minister Ibraimi had good intentions, in spite of the bad publicity. The Tuesday case confirmed that the terrorists do not care for the humanitarian aid. The terrorists are those who have caused the humanitarian catastrophe" Milososki said. According to him, "while the Macedonian State officials and political leaders try to restore peace in Macedonia through political means and concrete plans, there are some people that invest in war".
Chirac sounds Macedonia alarm.
BBC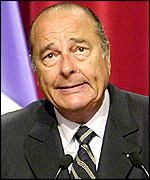 Chirac: Whole region at risk from the conflict.
French President Jacques Chirac has told a Nato summit in Brussels that the alliance must "rule nothing out" to restore peace to Macedonia.

He said the conflict between ethnic Albanian fighters and the Macedonian army was threatening the stability of the region, and a strong message had to be delivered.

"We should signal clearly that we will not accept the opening of a new cycle of violence and intolerance that imperils the stability of the entire region," said President Chirac.

"We should rule out nothing in order to put a stop to it."

His comments came at a summit attended by US President George W Bush, who is on the second day of a visit to Europe.

Mr Bush later rejected the idea of an early deployment of forces, but did not rule it out.

"Most people believe there's still a political solution available before troops are committed," Mr Bush told a news conference after his talks.

"The sentiment I heard is that there's still a possibility for a political settlement, a good possibility, and we must work to achieve that settlement."

Diplomats have been reported as saying that three Nato teams are on their way to Macedonia as an advance unit of military advisers to the government.

Nato Secretary-General George Robertson will also fly to Macedonia on Thursday for more talks.

He has previously stressed that Nato has no mandate to operate inside Macedonia, and has not been invited in by Macedonia.

It does operate just across the border in Kosovo, and has boosted its forces there to try to cut off the supply of arms to the rebels.

First hint

Nato and the EU's foreign policy chief, Javier Solana, have been involved in intensive diplomatic efforts to steer the country back from the brink of war.

But President Chirac is the first leader of a major Nato country to hint that direct involvement may be necessary.

On Wednesday, Greece said an international peacekeeping force would be needed in Macedonia "sooner or later".

The conflict started in February near Macedonia's northern border with Kosovo. Thousands of refugees have fled across the border.

Mixed signals

There have been mixed signs in recent days over whether peace is any nearer.

A fragile ceasefire - the latest in a series of attempts to halt the conflict - has held since Monday, and a peace plan put forward by the president has been formally adopted by the national unity government.

But rebels still hold a village less than 10km (6 miles) from the capital, Skopje, and have threatened to attack the capital itself.

On Wednesday the commander of the Macedonian army, General Jovan Andrevski, resigned, citing low morale among his troops.

The rebels say they are fighting to improve the rights of ethnic Albanians in Macedonia.
Turkey: Turkish Foreign Minister says the situation in Macedonia is catastrophic.
Makfax
Istanbul, - The situation in Macedonia is catastrophic, says the Foreign Minister of Turkey, Ismail Cem, urging NATO to take concrete steps to end the violence in Macedonia, Makfax news agency says.

Makfax news agency quotes Cem as calling for intervention to end the terror unfolding in Macedonia, including the intervention of Southeast European peacekeeping force. Macedonia needs to safeguard the domestic peace and we have to address this issue. NATO should play more active role, Cem said today ahead of the NATO summit in Brussels. Cem reiterated Ankaras strong attachment to inviolability of territorial integrity and sovereignty of Macedonia. He conveyed Ankaras deep concern over the recent attacks of extremist nationalists on shops and houses owned by citizens of Turkish and Albanian nationality.
GERMAN DONATION FOR MACEDONIAN ARMY.
MIA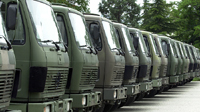 German Ambassador to Macedonia Werner Burkhard handed over Wednesday to Macedonian Defense Minister Vlado Buckovski the German donation for the Macedonian Army. The ceremony was held in military barracks "Goce Delcev" in Skopje.

The donation is comprised of 20 trucks with loading capacity of 5t, 50 devices for night monitoring and sanitary equipment.

German Ambassador Burkhard stressed that the donation continues the German practice to support Macedonia, such as with the vehicles from "BTR," "Hermeline," types and sanitary vehicles.

"This shows our friendship with the Macedonian Army and denies the speculations that Germany supports the so-called 'NLA'. This proves our support to the Macedonian Army and to Republic of Macedonia," German Ambassador said.

Burckhard expressed his assurance that the cooperation will continue, although the German resources for the Army have been lowered.

Macedonian Defense Minister Vlado Buckovski thanked for the donation, stressing that there is no doubt in the Macedonian - German friendship.

As a confirmation of this friendship, Buckovski mentioned the support from German Defense Minister Rudolph Scharping, expressed during their recent meeting in Brussels.
PRESIDENT TRAJKOVSKI'S PLAN: NO COMPROMISE ON THE TERRITORIAL INTEGRITY.
MIA
Key principle in the plan of the Macedonian President Boris Trajkovski for surpassing of the crisis in Macedonia is establishment of peace and order on the entire territory of the Republic of Macedonia. According to the plan, changes in the status of Macedonia's territorial integrity will not be allowed under no conditions nor in any form. There will be no compromise on that matter.

The plan will be carried out through several stages. In the first stage, the Macedonian security forces will undertake operations to prevent further expansion of the terrorist activities. For that purpose, the newly established special units that include members of the police and the army will undertake anti-terrorist operations under a special command. The institutional dialogue, but only with the legitimate elected Albanian representatives, will proceed parallel with these operations.

Because the character of the crisis also demands political measures, the president's plan must be supported by all political parties in the country and they must all actively participate in its realization. The international community also must contribute to its realization.

Enhanced border control by the Macedonian security forces, in cooperation with NATO and KFOR, is also needed.

The Macedonian Government will participate in the realization of President Trajkovski's plan for surpassing of the crisis through a coordination body, established today.

The first phase of the plan is the organizational one, which is practically ongoing and includes diplomatic and political initiative, coordinated by a special body composed of 9-11 members. In the second phase, the terrorists would be completely isolated on a military and political field, followed by a strong media campaign, aimed to explain to the domestic and international community the necessity of such a development of the events.

The third phase of Trajkovski's plan foresees declaration of unilateral cease-fire by the Macedonian side, offering 48 hours for terrorists to lay down their arms, and followed by an implementation of measures for restoring of trust. All of those activities will be carried out by the Macedonian security forces in full cooperation with KFOR that will act as a monitoring mission. Its engagement is aimed to prevent any propaganda for excessive use of force by the Macedonian police and army.

The forth, probably most delicate phase, foresees disarmament of terrorists and establishing of peace in the whole country. It will be carried about by the Macedonian security forces in cooperation with representatives of NATO, KFOR or some monitoring mission of the European Union. Considering the complicated procedure for altering of NATO mandate, a bilateral agreement will be signed with one of NATO member countries, most probably the Great Britain, which means inclusion of British soldiers in collection of the arms. Such step has been initially approved by NATO Secretary General George Robertson. It also understands a guarantee that no charges will be brought against the terrorists. The amnesty will be enforced immediately after the process of disarming for all terrorists not deemed guilty of crimes.

The fifth and final phase foresees restoring of normal life in affected areas, meaning that the Macedonian security forces will return to the initial positions and control the terrain.

According to President Trajkovski, this plan has no direct connection with the ongoing political dialogue under his auspices. Therefore, any possible setting of conditions by terrorists regarding the dialogue progress should be neutralized.

This is a complex plan and therefore President Trajkovski expects appropriate media campaign, so that citizen of the affected areas may understand the objectives of the whole operation. One of the main tasks refers to restoring of trust among the local population, by renewal of their homes, implementation of many social projects, improving of living conditions, particularly in the spheres of health care and education. These measures also refer to reintegration of population, i.e. of the people who will lay down their arms, and afterwards included in the normal life of the country.
BUCKOVSKI: THE GOVERNMENT SUPPORTED PRESIDENT TRAJKOVSKI'S PLAN
MIA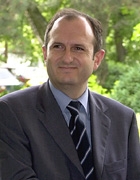 The Macedonian Government supported the plan of President Trajkovski and decided to join in its realization," Vlado Buckovski, Macedonian Minister of Defense said after today's session of the Government.

As he reported, the Government established a coordination body in charge for dealing with the political and security crisis in the country.

"The coordination body will enable civil control over the joint forces for special purposes that were established today," Buckovski stated.

The coordination body will be managed by Vice-Prime Minister Ilija Filipovski, and will also include the Minister of Interior - Ljube Boskovski, Minister of Defense - Vlado Buckovski, Chief of the Army Staff - General-Lieutenant Pande Petrovski, Director of the public security department Dragi Grozdanovski, and Mitko Kotovcevski who will lead the expert's part of the Coordination body.

Regarding the resignation submitted by General Jovan Andrevski from the position of Chief of the Army Staff, Buckovski said that "a general whom Macedonia will whish to have in the future is leaving."

As he said, Andrevski decided to resign right after five Macedonian soldiers were killed by the Albanian extremists about a week ago.

"For two days we have been unsuccessfully attempting to supply with food the civilians in Lipkovo who are held hostages, and to repair the valves on the Lipkovo dam, which would provide water to the city of Kumanovo," Buckovski said.

"The end of the crisis is coming near. The terrorists are nervous, because they did not expect such a strong international support in regard to their isolation," he said.
Greece sees foreign peacekeepers in Macedonia.
Reuters
ATHENS, June 13 (Reuters) - Greece said on Wednesday the deployment of an international peacekeeping force in neighbouring Macedonia was needed to help end a five-month conflict government troops and armed ethnic Albanians.

"A presence of a peacekeeping force sooner or later...will be necessary," Greek Foreign Minister George Papandreou told Greek radio.

"We have an immediate interest. There are many Greek companies that have invested substantial funds in this country," he told Flash radio.

Greece has been Macedonia's largest foreign investor and third-biggest trading partner, with some $300 million direct investment in 1999.

But Papandreou said he did not favour imposing an outside solution on the conflict without the consent of the Macedonian government.

The ethnic Albanian insurgents say they are fighting to end discrimination against them by majority Slavs. Ethnic Albanians account for about a third of the country's population.

"A peacekeeping mission which has...the approval of the government in Skopje is something the Greek government would look at positively... I don't think it would reject it," Papandreou said.

NATO leaders, including U.S. President George W. Bush, were to meet in Belgium later on Wednesday to discuss the crisis in the small Balkan state as a shaky ceasefire between rebels and state troops on Tuesday was extended to Wednesday.
Macedonian govt recognises Beijing.
AFP
SKOPJE - The Macedonian government yesterday decided to recognise China officially, a move which will automatically end its diplomatic ties with Taiwan, government spokesman Antonio Milososki said.

''The government decided to normalise relations between Macedonia and China. This decision means there will be consequences on our relations with Taiwan,'' said Mr Milososki.

Advertisement

He said no date had yet been set for a signing ceremony with a Chinese representative.

Macedonia's government established ties with Taipei in January 1999.

Critics of the move - made without notifying then-president Kiro Gligorov - said it would alienate Macedonia from China.

The Balkan republic's ties with Taiwan had been the island's last diplomatic foothold in Europe apart from the Vatican.

Taiwanese lawmaker Lee Shang-ren said during a recent trip here that Taipei had invested an estimated US$147 million (S$260 million) in Macedonia.

Only 29 countries have recognised Taiwan, which China sees as a breakaway province. -- AFP
Taiwan: Taipei hopes Skopjes decision is not final.
Makfax
Taipei, - Taiwan hopes that the recent decision of Macedonain government to suspend the diplomatic ties with Taiwan and patch up the ties with China, is not a final decision, Western media reported.

Taiwanese Foreign Ministry said there was a lack of unity among Macedonian government offcials regarding this issue. However, Taipei presumes the President Boris Trajkovski has the last word. We expect President Trajkovski to discuss this issue with the leaders of ruling coalition parties, we shall wait for their decision, the Spokesman for Taiwanese Foreign Ministry said.
Macedonia Crisis Looms Over NATO.
International Herald Tribune
Joseph Fitchett International Herald Tribune
Wednesday, June 13, 2001

Powell to Join Talks on Efforts to Stabilize Deepening Conflict.

PARIS The Bush administration, NATO and the European Union will hold crisis talks Wednesday in Brussels about how to prevent civil war from spiraling out of control in Macedonia. The talks will cover the possibility of the eventual use of NATO peacekeeping troops to stabilize the ethnic conflict there.

In disclosing the hastily scheduled meeting, which is to include Secretary of State Colin Powell, diplomats in Brussels acknowledged that the threat of a new crisis in the Balkans suddenly loomed over the planned summit meeting Wednesday of alliance leaders, including President George W. Bush.

The diplomats said that U.S. officials had sought to keep the emergency in Macedonia off the planned agenda for the heads of state because Mr. Bush wants to outline broad new U.S. strategic thinking, so a separate meeting was called.

Three teams from the North Atlantic Treaty Organization already were on their way to Macedonia, diplomats said on Tuesday, to serve as an advance unit of military advisers to the government.

Its troops have been faring badly against ethnic Albanian guerrillas, losing key positions near Skopje, the capital, while apparently alienating civilians in Albanian-populated areas by shelling their villages.

The NATO teams, apparently involving only a few dozen men at this stage, also will examine ways in which the alliance could help with security issues if President Boris Trajkovski of Macedonia follows through on a peace plan that his government put forward Tuesday. That plan includes an amnesty for the rebels and their disarmament with NATO supervision.

The limited plans - which could foreshadow more direct NATO involvement in the crisis, the sources said - reflected an increased international effort to help Mr. Trajkovski. Western alarm has risen in recent weeks, a NATO official said, explaining that "amid these cease-fires that seem to go on and off, the situation doesn't seem to be going into a stable line of improvement."

In neighboring Greece, which fears that violence may spill over its borders, Foreign Minister George Papandreou said Tuesday that international intervention might be necessary in Macedonia if the government fails to reach an agreement with the rebels soon. No other allied government has referred to intervention publicly, but all clearly share a new sense of urgency about the deteriorating situation.

The Western position includes pressure on Mr. Trajkovski, who leads a Slav-dominated government, to make significant political concessions to ethnic Albanian demands and thus undercut the rebels' appeal to Macedonia's Albanian minority, who compose about one-third of the more than 2 million residents.

Saying that EU capitals, Washington and Moscow were aligned solidly behind this position, a French official said, "We have been working together in real harmony to get the right compromise for two months, but slippage has appeared recently and we need to find new momentum."

He said any plan to deploy NATO peacekeepers was premature, but the possibility was being discussed in the context of a political solution for the country.

The unusual degree of U.S. and NATO cooperation with the EU's fledgling security apparatus, which has taken the public lead in Macedonia, will be underscored by the crisis meeting, which will bring General Powell together with the NATO secretary-general, George Robertson, and Javier Solana, the EU's top diplomat.

The Bush administration has been seeking ways to reduce the U.S. military commitments in the Balkans, and it would be a political turnaround for Mr. Bush to acknowledge now that American ground forces are needed for another crisis in the region.

Any NATO move would require U.S. approval and probably a commitment of U.S. troops.

As a diplomat said at alliance headquarters: "Peacekeepers have been under discussion for weeks, mainly in terms of an absolute 'no' from the Bush administration."

But Washington may be forced to reconsider because the stakes in Macedonia are so high.

According to a diplomat in alliance headquarters, NATO leaders face a dilemma in the Balkans: "Getting involved in one more place is a big undertaking but, on the other hand, letting one place undo everything that has been accomplished so far could be a worse and even bigger deal."
FRY: General Pavkovic welcomes co-operation with Macedonian Military.
Makfax
Belgrade, - The Chief of Yugoslav Army Staff, General Nebojsa Pavkovic, welcomes the military co-operation with Macedonian Armed Forces, Belgrades news agency Fonet says.

The same source quotes General Pavkovic as saying there is an exchange of releasable intelligence-security information covering the Presevo Valley region and the northern region of Macedonia. The military co-operation includes exchange of experience in anti-terrorism. General Pavkovic outlined the military co-operation will continue.
Macedonia aid convoy tries reach rebel villages.
Reuters
By Daniel Simpson

BEDINJE, Macedonia, June 13 (Reuters) - Aid workers were making a new bid on Wednesday to ferry food and other emergency supplies to civilians in villages held by ethnic Albanian rebels as a fragile ceasefire entered a third day.

The aid convoy is part of a food-for-water deal that would be a breakthrough after both the army and the insurgents stepped back from a wider conflict on Monday, with the rebels shelving threats to bombard the capital, Skopje.

"There were no military operations throughout the night and during the morning," Macedonian army spokesman Blagoja Markovski told the state news agency MIA.

Radio reports, however, spoke of an exchange of fire overnight near Nikustak near Kumanovo, about 40 km (25 miles) east of Skopje. No one was hurt.

The government called a ceasefire on Monday from 0700 GMT and the rebel National Liberation Army (NLA), which says it is fighting for more rights for Albanians who make up 30 percent of Albania's population, declared a ceasefire of its own.

Trucks laden with flour, rice, juice, milk and even nappies and disinfectants were gathering at a dusty army checkpoint at Bedinje near the front line on the outskirts of Kumanovo on Wednesday.

"We will have a new try to supply the villages," Ramazan Shaqiri, deputy head of the Macedonian relief group Jeta, told Reuters. Thousands of civilians have been sheltering from an army bombardment in a string of villages west of Bedinje.

But the aid convoy of 26 trucks was turned back by the government both on Monday and Tuesday after Skopje balked at rebel demands for journalists to accompany the convoy to see conditions in the villages. The government said it was not safe for the media.

OPENING RESERVOIR

As part of a bargain for allowing in aid, the rebels are due to allow an engineer from the local water authority into their territory to turn on water supplies from a mountain reservoir that feeds the government-held town of Kumanovo, which has a population of 100,000.

Water was cut off eight days ago and citizens have been queueing at water tankers sent to combat a heatwave.

The International Committee of the Red Cross, the main humanitarian group in the area, evacuated 330 civilians on Tuesday from rebel-held villages, where food is running low. It said it was not planning a new mission on Wednesday.

Macedonia's crisis has lurched from signs of progress towards peace to fears that the rebellion will trigger a new Balkan war. The rebels say Albanians suffer discrimination in everything from jobs to education by the majority Slavs.

A flood of refugees over the border to Kosovo slowed on Tuesday with just 2,200 passing after 5,300 crossed on Monday, the highest number since the crisis erupted in February.

In a sign of underlying tensions, police sources said men of fighting age were being registered in some Skopje suburbs to ready them for a call-up in case the fighting worsened.

Some men were being issued with uniforms and assault rifles, without bullets, and told to take them home to await a possible call-up. It was the first such registration since the crisis began in February.

Leaders of Macedonia's political parties, in a unity government of both ethnic Slavs and Albanians, are due to meet in the southern lakeside town of Ohrid on Thursday or Friday to try to advance towards a deal to end the crisis.
A European Commission will allocate EURO 200 mn for Kozloduy Nuclear Power Plant.
News.bg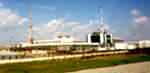 The European Commission for closing down the 1st and the 2nd units of Kozloduy Nuclear Power Plant will allocate EURO 200 mn before the expiration of their nameplate exploitation term, the Kozloduy Nuclear Power Plant Executive Director Yordan Yordanov announced. According to him, the countries that would donate the money would decide on the first tranche of EURO 100 mn at their conference in London that would take place on June 15, and the rest of the money would be allocated after 2002.
Migrants to Turkey Arrive for the Vote.
Standart
The Bulgarian citizens in our neighbor to the south will be able to vote in 44 polling stations.
Thousands of migrants to Turkey arrive in Kardzhali because of the general election. As of the beginning of June, this caused a boom in the issuance of passports. 1,774 passports and 1,525 IDs were issued in Kardzhali last week alone.
The working hours of the passport department has been extended. By June 15, all regular applicants will get their new documents, sources from the Regional Directorate of IM (RDIM) in Kardzhali said. In the event of a lost identity card, the voting will take place by means of a certificate issued for free by the Regional Police Department (RPD) and RDIM. Applications may be submitted as of June 12 up to 12.00 a.m. on June 17. The Movement for Rights and Freedom doesn't keep statistic data on the number of the immigrants who have arrived for the vote, said the local leaders. People arrive by the regular bus lines from Turkey, activists from the local MRF headquarters said. 44 polling stations will be opened for the Bulgarian citizens in Turkey to vote. The data comes from the MRF headquarters in Kardzhali. To date over 44,000 applications have been submitted in Istanbul, Edirne, Izmir, Izmit, Bursa and Corlu. There were 25 polling stations in Turkey for the general election in 1997. Then, around 6,000 people voted there.
Valcho Milchev
The King Had Lunch with the Arab Ambassadors.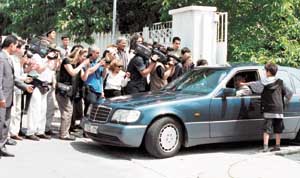 Journalists from all media surrounded the car by which Simeon II left after a working lunch with the ambassadors of the Arab countries yesterday. The meeting was held on the invitation of the diplomats and took place in the residence of the Morocco's ambassador. We spoke about Bulgaria's interests in the Arab countries and theirs in Bulgaria. We didn't touch upon the trial in Libya. These are things that are not discussed at a lunch and in the presence of other parties, but bilaterally, said Simeon II.
PHOTO NIKOLAI DONCHEV
INTERVIEW:
Simeon II: I Am Not to Be Lured into Any Post.
Standart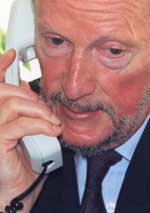 Dear Readers,
On Monday, June 11, HM Simeon II was a guest of "Standart" daily. He came to take part in the "Dialogue Stadart". Before the meeting started we have received over 400 questions - phone calls and e-mails of our readers in Bulgaria and abroad. The major share of them were related to concrete events and personal problems. Naturally, these questions could hardly be answered in an appropriate way. Some questions were the same. We have summed them up without changing their meaning. Many letters and phone calls were not actually questions, but rather best wishes for the victory in the election. Those we handed down to our guest directly. In the course of the meeting, more than 20 participants had a chance to talk with Simeon II personally over the telephones of the editorial office. Starting from today, in three successive issues, we shall publish the answers that His Majesty offered to our readers.
- Nikolina Nikolova of Sofia: Will any charges be pressed officially against those who plundered the country and reduced the people to the state when they had to look for food in trash containers, and made us witness the comeback of so many diseases, long forgotten in recent decades, such as tuberculosis and poliomyelitis?
- I am positive that those who robbed the people of the fruits of their labor, especially those vested with power due to the credit given to them by the Bulgarian citizens, will have to face the rigor juris. If the acting laws are insufficient, the new ones will be adopted and effected. I've said so in my last statement. Now I would only like to add that everything must be done the way it is done in Europe, the appropriate institutions should be involved which are authorized to take decisions. In no event, however, should we allow "witch hunting".
- A summed-up question from our readers throughout the country and abroad: What will you tell the young people, who still want to leave the country, shall they wait to see the results of you rule? And what about those who are now outside Bulgaria? What can you offer them in this country?
- The young shouldn't lie waiting, they must be harnessed in the implementation of the forthcoming reforms. As a long-time emigrant I am very sensitive to this particular issue. I am aware that living abroad is not at all easy. I wish that the young Bulgarians living abroad would come back to stay, they should know that in Bulgaria there are job opportunities.
- A summed-up question from the Bulgarian readers: How do you see your own role in the political life?
- Let us first see what will be the results of the election, then we will be able to discuss it. I have always been connected with the social life in Bulgaria, ever since my birth. But I have never found tempting any of the posts and never had such appetites. I do not think that you have to hold a certain post to helpful be to Bulgaria.
Anelia Basheva
Evgeni Petrov
INTERVIEW PART II:
I Have Always Had Bulgarian Citizenship Only.
If lies could furnish victory in the elections, UndDF would have had a landslide, while we would have flunked totally, maintains Simeon II.
Peter Ilchev (62), Yambol (in a phone converstion):
They accuse you of proposing a socialist platform?
I think that a socially-oriented views are not necessarily socialist. But don't you worry.
Robert Popitsa from Sofia:
Do you have any other citizenship except Bulgarian?
Definitely not. I don't even know what other words could I use to explain it over and over. For years on end I have been traveling with some weird Nansen identity papers, only to avoid taking a foreign citizenship. My mother always insisted that I shouldn't take any foreign citizenship and should travel with our passport. We held a common passport - for my mother, my sister and me, and it was valid for six months. Later we were issued an Egyptian document, called "laissez-passer". Later my mother, as an Italian citizen, was given some passports out of politness. However, after that the policy of the Italian Foreign Ministry has changed and we got a Spanish royal passport. It was issued on the personal judgment of the King and it was a kind of a document that doesn't oblige you to anything. Because these are not passports for common people, if I may put it so. These were identity papers issued as a curtsey from the King to give me a chance to travel. And so it was till I got a Bulgarian passport. This happened in 1991. Without any delay. Before we used to think that our Bulgarian citizenship was revoked, because we were considered enemies or something like it. When Kevork brought me a certificate from the Ministry of Justice, we got convinced that it is not so. Which, in its turn, meant that we can get our passports right away. And so we did. Then they racked their brains in the consulate, how to register me, and so on. I told them then, "Call me by my name, Simeon Borisov Coburg-Gotha". To make it shorter they wrote it as Saxe-Coburg-Gotha. My mother preserved the passport from my childhood. It is kept somewhere in the archives in Madrid, but for years now I haven't had time to look through them and find it, because I have such a lot to do.
Yullee Moskov, editor-in-chief of "Standart". They have just brought me an album which was published on the occasion of your birthday. There are photos of you as a baby. I would like to present it to you.
Oh, yes, here am I with a car. And in this picture I am learning to ride (at this point he was looking through the album with vivid interest and obviously excited).
Neli Nikolova (41), Varna (in a telephone conversation):
Before the election, would you make public the information about the charity dispensed by the royal family?
The real charity does not mean to do good, be boastful about it and expect thanks from people. This I learnt from my mother, God bless her. We have been doing so for years. And donated a lot of things and funds. We never wanted to show off or give money to some foundations. I think it is much better this way. Well, I would like to believe that we have done it this way and many people are grateful. We have helped many people to graduate, gave a helping hand to orphanages and what not. But I can tell you, it is not like me to be boastful of the good I am doing. He who trusts me and believes in me is welcome. Otherwise, when you show off it looks like you are aiming at something else.
Dimitar Todorov from Shoumen:
How do you feel about smear campaign against your Movement?
I think that if lies, preposterous statements and slander could furnish victory in the election, UtdDF would have had a landslide and our movement would have flunked completely. But this is my personal opinion.
INTERVIEW PART III:
Simeon II: I'm a Man of the Dialogue.
Whenever I see people's poverty, my heart literally misses a beat and I even feel uneasy that I'm riding in a Mercedes, the King admitted.
- "Standart": Probably you have also had the feeling that people do not favor privileges, for they themselves are poor.
- They are not in favor of privileges even in very rich and affluent countries and prosperous societies. But when touring the country now I see the poverty, my heart really misses a beat. I feel even more low because I'm riding in a Mercedes. Because I understand that this is not a living standard people deserve. On the other hand, though, this car is more enduring. It is not armored and is not given to me by this or that grouping, as run the rumors which the "nice and well-meaning" people are trying to spread.
- Yulee Moskov: Your Majesty, would you agree with the opinion that before the election Simeon II have done two important things for Bulgaria. First, Bulgaria has turned its back on the communist past once and for all, which is born out by the fact that for the first time the Socialist Party puts in no claims on power. Another thing is that only now, again unprecedentedly, the bipolar model will finally become history. Because actually there have never been two poles in our politics. Our experience in the last twelve years shows that whatever party has the majority in the parliament, it sticks to a "one pole" pattern of political behavior. There is no dialogue in the society.
Many people think that these two achievements they owe to you and they are happy to admit it. Would you agree to that?
- Maybe, but unwillingly. The bipolar model is functioning in the USA and Great Britain. Well, but these are centuries-old democracies. When democracy is nascent and frail, in my opinion, political space and policy in general are monopolized to a certain extent. At the same time there is no dialogue within the society, instead everyone sets up his own barricade, which is even worse.

I am a kind of person who likes to listen people out, I think that 50 percent of the problems could be resolved if there were a dialogue, or at least they could enter into a more constructive phase. That's why I stand for dialogue, not confrontation. Now they often ask me: if we come to power shall we be like a new broom that sweeps clean? God forbid! We'll use no brooms. In the 50's, France had a new government every month. However, nothing happened to France. Why? Because the entire administration, below the level of vice-ministers, was kept in place.

Why cannot we apply the same approach here - if someone is capable, has expertise and functions efficiently, why should we get rid of him just because he belongs to some other party or movement? We do not have a potential that would allow us to sweep away everything every 4 years. Why shouldn't we keep the efficient and experienced people. As my father used to say, God bless his soul, in Bulgaria whenever a cabinet crisis occurs they would expel everyone, from ministers to errand boys. This is not right and it shouldn't be so.
Anelia Basheva
Evgeni Petrov
Yugoslavia, Croatia to boost trade, other ties.
Reuters
By Beti Bilandzic

BELGRADE, June 13 (Reuters) - Yugoslavia and Croatia on Wednesday agreed to kick-start talks on a free trade agreement and said they expected trade between the Balkan states to increase to $1 billion in two years.

"The Croatian government is convinced that with...this agreement the Federal Republic of Yugoslavia will become one of Croatia's most important trade partners," Croatian Economy Minister Goranko Fizulic told reporters.

"We expect the positive trend in 2000 and in the first four months of 2001 to continue...and that in two years we will reach the level of $1 billion of bilateral trade," he said after talks with Yugoslav Deputy Prime Minister Miroljub Labus.

Ten years after the violent break-up of the old Yugoslav federation, the two countries' reformist authorities have started mending political and economic ties. Croatia broke away from the Yugoslav federation in the early 1990s.

"We would like everything that has been lost in the past ten years to be made up in a short time and that both states find their place in Europe," Fizulic said.

Labus said the two sides had agreed to form working groups on hammering out the free trade agreement and that he expected talks to proceed fast.
U.S. Senators, others favor intervention in Macedonia.
Reuters
By Jonathan Wright

WASHINGTON, June 13 (Reuters) - Influential U.S. senators and opinion-makers advocated on Wednesday that the United States take the lead in seeking a political settlement in Macedonia, if necessary using American and NATO troops

Sen. Joseph Biden, the Delaware Democrat who chairs the Senate Foreign Relations Committee, asked President George W. Bush to consider appointing a special envoy to Macedonia, where ethnic Albanian guerrillas threaten to wreck a coalition government.

"This country must increase its involvement. The stakes in Macedonia are simply too high for us to choose to play a secondary role," he told a hearing into the Macedonian crisis and the U.S. engagement in the Balkans.

"Like it or not, only the U.S. has the military and political credibility with all ethnic groups to successfully manage and resolve the crisis in the Balkans," he added.

Sen. Richard Lugar, an Indiana Republican who favors a global role for the United States, criticized hesitation by successive U.S. administrations in the Balkans and said that delay could prove costly in the long run.

"Why isn't it a better course simply to indicate that this type of violence (in Macedonia) is unacceptable, we have the forces to stop it, we will stop it and the United States will take the lead in doing it?" he asked.

Retired U.S. Army Gen. Wesley Clark, NATO commander during the war over Kosovo in 1999, said in written testimony that NATO troops in neighboring Kosovo should move into northern Macedonia, where Macedonian troops have been fighting guerrillas of the National Liberation Army (NLA).

In Macedonia they would take part in joint patrols and help government troops restore a presence in the north, he said.

"Even if there's a political agreement ... it's going to take NATO backing and that's going to take U.S. leadership and U.S. commitment and no doubt U.S. troops on the ground to enable the Macedonian army to get into the areas where there has been fighting," Clark told the hearing.

"It seems clear that the situation on the ground is going to continue to deteriorate unless NATO actively intervenes... The time is now to move ahead with a NATO mission supporting diplomacy in the region," he added.

BUSH IS CAUTIOUS

The State Department official at the hearing, reflecting the same caution as President Bush showed in Brussels on Wednesday, said the United States had no plans for military intervention in the Macedonian conflict.

"Before you ever get to the kind of options that you're talking about, there are an awful lot of steps, there would be many alternatives in that kind of a melt-down scenario," said James Pardew, senior adviser on the Balkans.

"As for the issue of troops, that is not on the table now. We don't think we're even close to requiring consideration of that option," Pardew added.

Bush told reporters after talks with NATO leaders in Brussels: "The idea of committing troops within Macedonia was one that most nations were troubled over. They want to see if we cannot achieve a political settlement first."

"Most people believe there is still a political solution available before the troops are committed," Bush said. "The sentiment I heard here was that there's still a possibility for a political settlement, a good possibility."

At the Senate hearing, conservative opinion-maker Richard Perle also favored an active U.S. role in Macedonia, on the grounds that the Europeans could not do the job.

"I don't think there is any substitute for involvement at the highest level of the U.S. government," said Perle, a resident fellow at the American Enterprise Institute.

"It may well require peacekeeping force, including from the United States," he added.

Opinions varied in the hearing on the rights and wrongs of the Macedonian conflict, in which the guerrillas are demanding an end to discrimination against the ethnic Albanian minority, which makes up about one third of the country's population.

Biden, who has visited the Balkans many times, said he did not have the impression that Slav leaders in Macedonia were prepared to make "the basic concessions needed."

North Carolina Republican Sen. Jesse Helms acknowledged Albanian grievances but called the guerrillas "terrorists."