Enter content here
In pictures: Macedonia's night of anger.
BBC
Simmering tension in Macedonia finally spilled into street violence, as thousands of people took to the streets of the capital, Skopje. Their anger was fuelled by a government ceasefire with ethnic Albanian rebels - who were allowed to withdraw, fully armed, from a village just outside Skopje.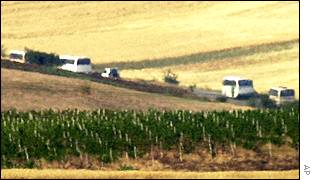 The anger was sparked by this - a convoy of rebel buses leaving Aracinovo under Nato escort.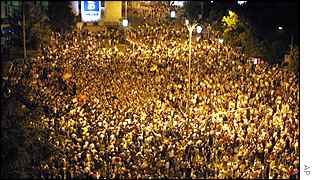 About five thousand Macedonian Slavs demonstrate outside the Macedonian Parliament in Skopje Monday, June 25, 2001, as they vent their anger against a NATO-brokered deal, allowing some 300 ethnic Albanian rebels to leave the village of Aracinovo, near Skopje, the scene of recent fighting. (AP Photo/str)
EDITORS NOTE OBSCENE GESTURE--Macedonian army soldiers and civilians protest in front of the parliament building in Skopje, Macedonia Monday, June 25, 2001. About 5,000 people demonstrated outside the Macedonian Parliament venting anger at a NATO-brokered peace deal allowing 300 ethnic Albanian rebels to pull out of Aracinovo, near Skopje. (AP Photo)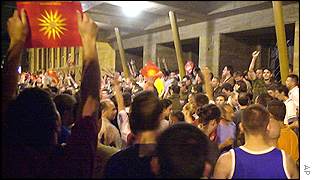 Youths and police officers protest in front of the Parliament building as an unidentified man holds the former Macedonian flag in Skopje, Macedonia Monday, June 25, 2001. Five thousands people demonstrated outside the Macedonian parliament venting anger at a deal that allowed up to some 300 Ethenic Albanian rebels to leave the village of Aracinovo, near Skopje. (AP Photo/Dimitri Messinis)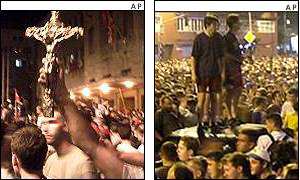 A Macedonian holds-up a crucifix in front of the Macedonian Parliament during a protest by some 5000 Macedonian Slavs in Skopje Monday, June 25, 2001. People demonstrated outside the Macedonian Parliament venting anger at a NATO-brokered peace deal allowing ethnic Albanian rebels to pull out of Aracinovo, near Skopje following days of fighting. (AP Photo/Dimitri Messinis)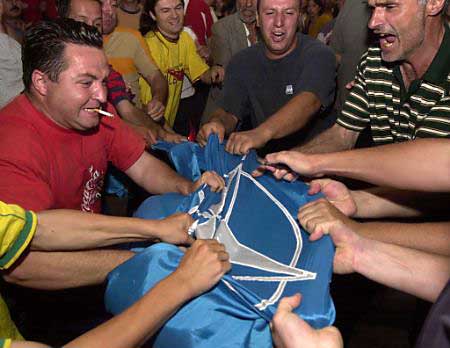 A crowd tears a NATO flag after army reservists invaded the Macedonian parliament in Skopje June 25, 2001. The protest followed a deal, brokered and implemented by NATO and European Union envoys, that allowed a group of ethnic Albanian rebels to leave the village of Aracinovo close to the capital and return to guerrilla-held territory. (Ognen Teofilovski/Reuters)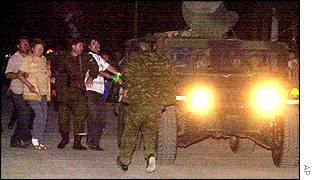 A Macedonian police officer trys to prevent civilians from attacking U.S. soldiers of the 101st Airborne Division which was blocked in the village of Umin Dol in northwest Macedonia, Monday, June 25, 2001. Local residents attacked soldiers with sticks and stones, blocking the road and preventing them from returning to their base after escorting buses which transferred ethnic Albanian rebels from the village of Aracinovo. (AP Photo/Darko Bandic)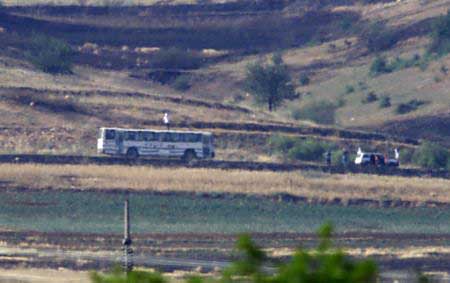 Buses transport Albanian rebels out of the village of Aracinovo June 25, 2001. The rebels were transported out of the strategic Macedonian village following a cease-fire agreement brokered by European Union and NATO envoys. (Peter Andrews/Reuters)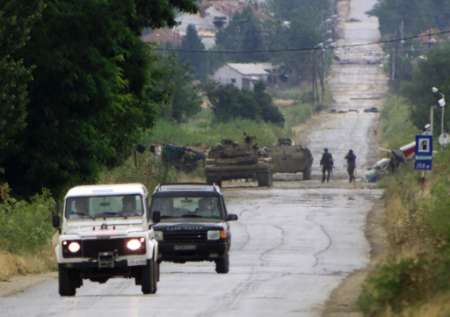 European Union monitors leave the village of Aracinovo June 25, 2001. Ethnic Albanian rebels have been transported out of the Macedonian village on Monday following a ceasefire agreement brokered by European Union Foreign Policy chief Javier Solana. REUTERS/Peter Andrews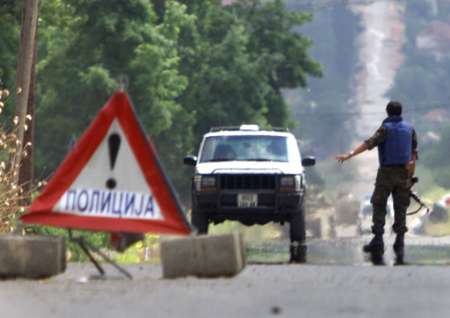 Macedonian police stop an OSCE vehicle as it leaves the Village of Aracinovo June 25, 2001. Ethnic Albanian rebels remained holed up in a strategic Macedonian village on Monday despite a cease-fire and evacuation deal brokered by western envoys after a three-day army onslaught. REUTERS/Peter Andrews
US official wounded in Macedonia shooting.
AFP
WASHINGTON, June 25 (AFP) -

An official with the US embassy in Macedonia was shot and wounded Monday when the convoy of observers he was riding with came under fire, the State Department said.

Spokesman Philip Reeker said the observers had been fired upon while traveling near the northern Macedonian town of Kumanovo but had few details of the attack other than that the shooting appeared to have been "accidental" and that wounded man was expected to recover.

"An embassy observer team came under fire southwest of Kumanovo from an unidentified source," Reeker said.

"One member of the team was wounded and is being brought to the Kumanovo military hospital for treatment," he added. "His condition is not life threatening."

Reeker thanked Macedonian officials for their cooperation in helping to transport the injured observer to the military hospital after the shooting.
MOBILE PHONES FOUND IN HUMANITARIAN CONVOY FOR LIPKOVO.
MIA
MOBILE PHONES FOUND IN HUMANITARIAN CONVOY FOR LIPKOVO Kumanovo, June 25 (MIA) - Convoy consisted of five vehicles from the humanitarian organization "El Hilal" was returned Monday noon from the control post near Lopate village as the police has found 12 mobile phones in the vehicle of Lipkovo Mayor Husamedin Halili, who led the convoy.

Mayor Halili stated that he knew nothing about the mobile phones in his vehicle, which was part of the humanitarian convoy with food and medicines for the civilians from Lipkovo.

The convoy was returned in order to be thoroughly examined, and Lipkovo Mayor was taken into Kumanovo police for further investigation.
Albanian rebels agree to pull out of Skopje suburb.
AFP
SKOPJE, June 25 (AFP) -

Ethnic Albanian guerrillas holed up in a town of the edge of Skopje agreed to pull out of their battered stronghold Monday after a three-day attack by the Macedonian army ended in a Western-brokered truce.

"We are going to pull out of Aracinovo as a sign of goodwill, in order to start serious discussions with the Macedonians," rebel Commander Hoxha told AFP by mobile phone from the town, adding that the pull-out could start later Monday.

He said he was discussing the modalities of a withdrawal with NATO's regional troubleshooter, Pieter Feith, who negotiated a peaceful end to a year-long ethnic Albanian revolt in southern Serbia last month.

"I think we will take our arms with us and pull back to a kilometre (less than a mile) from Aracinovo," Hoxha said.

The rebels control the village of Mojance, one kilometre in the hills above the battle-scarred town of Aracinovo, as well as a string of other villages to the north along the edge of the Black Mountains.

A western observer who entered the sealed-off town of Aracinovo said there were still many buildings untouched in the centre "but the periphery has been badly hit."

He said there no signs of any casualties.

The Macedonian army launched a massive assault on Aracinovo Friday, burying a fragile two-week ceasefire in a bid to push the rebels from the doorstep of the capital.

The offensive met with sharp NATO and EU condemnation, and the EU's foreign policy chief, Javier Solana flew in to negotiate an end to hostilities. He announced a ceasefire deal on Sunday after intensive talks with the government.

But firing rumbled on late Sunday from the rebel-controlled village of Nikustak, Western defence officials said.

Macedonian army spokesman Colonel Blagoja Markovski said there had been "provocations" overnight to which his troops had responded.

The area around Aracinovo was calm Monday.

The Macedonian Slav-dominated coalition government has so far refused to talk to the guerrillas, which it and NATO have dubbed a terrorist organisation, although Albanian coalition partners say all participants in the five-month conflict should take part in talks on political reforms.

Colonel Markovski said preparations were under way for a rebel withdrawal, adding that one of the points under discussion was where the guerrillas might hand in their weapons.

The government wants the rebels to be escorted by NATO monitors out of Macedonia into the UN-run Yugoslav province of Kosovo across the border, but the rebels want to stay in Macedonia.

The government says the gunmen are led by Kosovo extremists intent on annexing Albanian-populated areas of northern Macedonia to Kosovo, patrolled by NATO-led peacekeepers since the alliance bombed Serb troops out in 1999.

Macedonian security forces lost at least four dead and more than a dozen injured in the pitched battle for Aracinovo, which they blasted with helicopter gunships, heavy artillery and tank fire over the weekend.

Markovski said troops moved into half the town on Saturday, a claim denied by the rebels, who said they had inflicted heavy casualties and destroyed three tanks and two armoured troop carriers before repulsing the army.

Hoxha said one guerrilla had been killed and two injured.

President Boris Trajkovski has offered Macedonian-born members of the rebel National Liberation Army (NLA) an amnesty if they lay down their weapons and return to civilian life.

The rebels have yet to say whether they will accept the deal, which would not apply to their leaders.

Trajkovski's office said talks to thrash out a package of political forms addressing ethnic Albanian complaints of widespread discrimination were to resume Monday, almost a week after breaking down in acrimony.

The talks between Macedonian Slav and ethnic Albanian leaders of the fractious national emergency coalition are seen by the West as the only way of ending the five-month crisis which has brought the multi-ethnic state to the verge of civil war.

Macedonian Foreign Minister Ilinka Mitrevi was meeting her EU counterparts in Luxembourg Monday to outline what progress had been made in the slow-moving talks.

Swedish Foreign Minister Anna Lindh said the European Union, currently presided by Stockholm, was "disappointed" at the lack of visible progress in the talks.

NATO is preparing a a deployment of around 3,000 troops in Macedonia to disarm the rebels if a political deal is cut and if the guerrillas accept the amnesty plan.
Macedonia on Brink After Protests, Fresh Fighting.
Reuters
By Philipa Fletcher

SKOPJE (Reuters) - Macedonia teetered on the brink of civil war on Tuesday after a Western bid to end an army assault on ethnic Albanian rebels sparked fierce protests in the capital and heavy fighting elsewhere.

Police reservists armed with Kalashnikovs broke into parliament and fired volleys into the air while thousands of Macedonian Slavs, including some unarmed army conscripts, cheered them on.

``Albanians to the gas chambers! Give us weapons!'' people chanted while others fired shots in the air from the square. The numbers grew as news spread that a policeman had been killed.

Macedonia's hawkish Interior Minister Ljube Boskovski slammed NATO for escorting ``terrorists'' out of the village of Aracinovo under a cease-fire deal and pledged to wipe them out, saying they had launched an attack on police within minutes of the pullout.

``Peace will be restored only when we clean up terrorists from the state,'' he told reporters outside parliament.

``How can we have a cease-fire when they killed a policeman and wounded three right above Tetovo?'' he said, before being chased back inside the parliament building by the mob.

Heavy exchanges of fire broke out around the western town of Tetovo shortly after the guerrillas left Aracinovo under an escort including U.S., French and Italian soldiers as well as international monitors.

The evacuation was completed without incident, but a crowd of Macedonians stopped one of the convoys from returning to the capital, throwing stones and blockading the road.

The convoy, led by U.S. soldiers, waited for several hours before turning back. A diplomat with the group, contacted by telephone, said it had returned to Aracinovo, where it appeared to be preparing to stay the night.

PANIC AMONG ALBANIANS IN CAPITAL

The crowd in the center of the capital began to filter away after midnight. Most of the streets in the suburbs became eerily quiet, with cafes and bars closed.

``Albanians are in a panic and everyone's preparing to leave. For now, we are staying at home and waiting to see what will happen,'' said one young Albanian man who lives in an Albanian-populated quarter of Skopje.

The violence left Western diplomats at a loss. They had been hoping the Aracinovo deal would be a first step toward easing tensions and edging toward a political settlement involving rebel disarmament in return for more rights for the minority.

If any conclusion could be drawn from the day's events it was that neither of the warring sides was ready for peace.

One Western envoy who had been skeptical of the Aracinovo agreement from the start said the resulting violence was predictable but would not be drawn on what might happen next.

``I think there's a lot of understandable frustration out there and trying to figure out what's going to happen is extraordinarily difficult,'' he said.

There were fears that mobs might attack Albanian property overnight, as happened in the southern town of Bitola in early June after police from the town were killed in rebel ambushes, but there were no signs of that by the early hours on Tuesday.

The rebel commander of Aracinovo, contacted by telephone on Monday, claimed that the Albanian guerrillas had two ``brigades'' in the capital which could be activated if necessary.

So far the four-month-old ethnic Albanian guerrilla revolt has been mostly confined to skirmishes with the security forces, but diplomats fear it could take just one incident to tip the country over into an all-out war.
Macedonia president flees protesters.
CNN
SKOPJE, Macedonia (CNN) -- Protesters stormed Macedonia's parliament building Monday, forcing President Boris Trajkovski and other politicians to flee.

Shooting broke out as at least 5,000 people gathered in front of the parliament building to demand the president's resignation on Monday evening.

Several police and at least 50 members of the army were said to have joined in the protests as the chaos erupted in capital Skopje.

CNN's Juliette Terzieff said the protesters were angered by the government's handling of a cease-fire with ethnic Albanian rebels.

She said they were furious that the rebels were being allowed to take their weapons with them as they withdrew from the Skopje suburb of Aracinovo.

They were also angry at the amount of involvement of the international community, saying it had too much influence in Macedonia's internal affairs.

Terzieff said sustained volleys of gunfire could be heard coming from four different directions.

She said the president and other politicians were evacuated. They were alive, but there were no details of their condition or their whereabouts, she added.

Police set up road blocks around the building, allowing people to leave the area, but not to enter, she added.

The demonstrators broke through a cordon of police, hurled stones through windows and then succeeded in storming the doors.

Once inside, protesters hurled office contents through the glass windows in the three-story, concrete Stalinist-era building, which occupies an entire block in the center of the city. Macedonian flags were planted on balconies.

Several cars, including the president's Mercedes, were destroyed.

Turzieff added that several police officers and several journalists were injured in the storming, including one BBC journalist who "was beaten up and received fairly severe wounds."

The president has not issued any statements since the demonstrations began.

The violent protests came during a day that started with great progress following the announcement of a European Union-backed cease-fire, but degenerated into virtual chaos in the streets of the capital by nightfall.

Earlier, two U.S. KFOR soldiers were wounded near the village of Nikustak while supervising the withdrawal of ethnic Albanian rebels.

Their battalion came under fire, apparently from Macedonian troops, diplomats in Macedonia confirmed. They say the incident was an accident.

The wounded soldiers were evacuated by helicopter and their medical condition is unclear.

A NATO spokesman said 15 KFOR buses were transporting ethnic Albanian rebels from Aracinovo to the village of Nikustak, about two kilometers away.

The buses were provided by KFOR nations -- France, Italy and the United States.

The KFOR soldiers do not have a mandate in Macedonia. They were called into the area for logistical support. Several thousands of KFOR troops are stationed in Macedonia to assist with the rebel pullout.

KFOR is a NATO-led international force responsible for establishing a security presence in neighboring Kosovo.

Ethnic Albanian rebels agreed Monday to a general cease-fire in Macedonia and to pull back their forces one kilometer from Aracinovo, where they had been battling Macedonian troops since Friday.

The European Union had also called for a disarmament of the troops on Monday, but that failed to happen.

The rebels said they agreed to the pullback on the condition that Macedonian forces do not enter the village, and that the Macedonian side observed the cease-fire.

Elsewhere in the country, shelling and small arms fire could be heard, primarily in the northwest near Tetevo as rebels and government soldiers exchanged fire.

Locals were hired to drive the buses, the NATO spokesman said, and NATO-led KFOR soldiers were not involved in the rebel pullback.

cease-fire monitors from the EU and the Organization for Security and Cooperation in Europe are unarmed and the convoy is not being provided with an armed escort, according to the spokesman.

He said Macedonian government forces are being trusted not to attack the convoy.

EU and OSCE diplomats in Europe negotiated the rebel pullback from Aracinovo on Monday, a day after shelling there destroyed a brief truce in the village brokered by in European Union foreign policy chief Javier Solana.

The rebels had said they would pull out of Aracinovo on Sunday if international monitors were put in place in the region, which was part of the agreement brokered the same day by Solana.

But after Solana left the region on Sunday, Macedonia reneged on this stipulation.

The ethnic Albanians say they are fighting for more rights from Macedonia's government.

The government accuses the rebels -- who make up a third of Macedonia's two million people -- of trying to split ethnic Albanian-populated areas from the rest of the country.

Solana attended a meeting of EU foreign ministers in Luxembourg on Monday. He held out hope for a settlement despite the ongoing setbacks in Macedonia.

"It's going a little bit much slower than we thought but it's going well," he said.

EU Foreign Minister Chris Patten said earlier on Monday that the EU would not be able to approve aid and finance to Macedonia as long as it was spending much needed funds for reconstruction on arms and bullets.

"We would like to support confidence building measures, but it's difficult to build people's confidence when money in short supply is being spent on bombs and rockets," Patten said.

"So the sooner there can be a cease-fire permanently and the sooner there can be a political settlement, the sooner we'll be able to discuss investing the future peace, stability and prosperity."

CNN's Juliette Terzieff and Brussels Bureau Chief Patricia Kelly and journalist Vladimir Juzelov contributed to this report.