Enter content here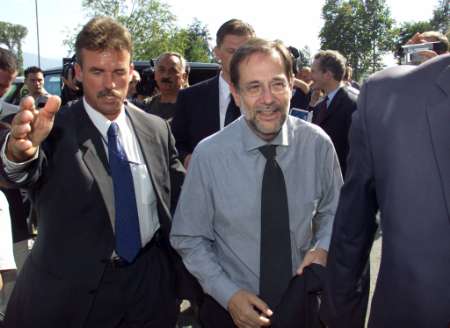 European Union Foreign Policy Chief Javier Solana leaves Bellevue hotel outside of Skopje June 24, 2001. A temporary cease-fire has been implemented following talks between Solana and Macedonian President Boris Trajkovski after Macedonians defied international appeal for a third day on Sunday bombarding a strategic village held by Albanian guerrillas in an escalation of a conflict which risks spiraling in to civil war. REUTERS/Peter Andrews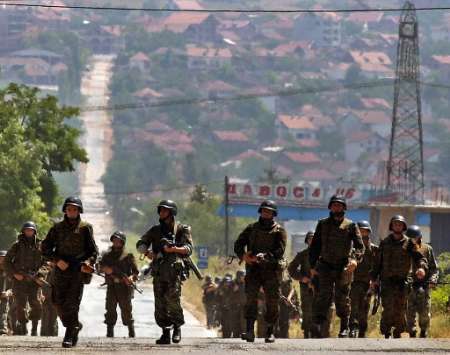 Macedonian special policemen walk by the road at the entrance of the village of Aracinovo, east of the capital Skopje, on June 24, 2001. Macedonia defied international appeal for a third day on Sunday bombarding a strategic village held by Albanian guerrillas in an escalation of a conflict which risks spiraling in to civil war. REUTERS/Ognen Teofilovski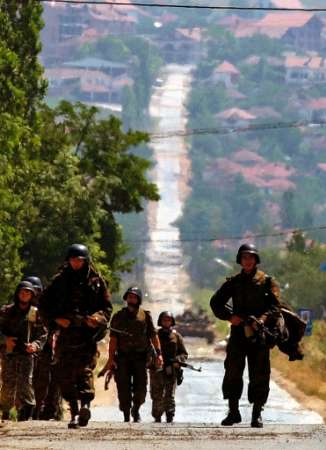 Macedonian policemen walk by the road at the entrance of the village of Aracinovo, east of the capital Skopje on June 24, 2001. Macedonia defied international appeal for a third day on Sunday bombarding a strategic village held by Albanian guerrillas in an escalation of a conflict which risks spiraling in to civil war. REUTERS/Ognen Teofilovski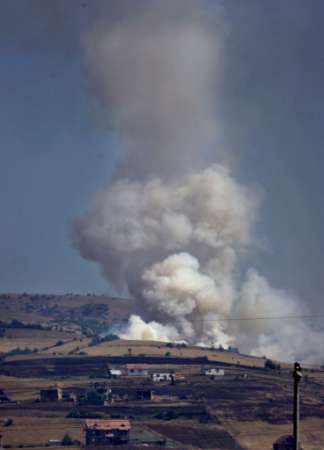 Thick smoke rises from a house which was hit by an artillery shell in the Macedonian village of Aracinovo June 24, 2001. Macedonian forces resumed their assault on Sunday on the village held by ethnic Albanian guerrillas despite frantic efforts by the international community to restore a truce. REUTERS/Peter Andrews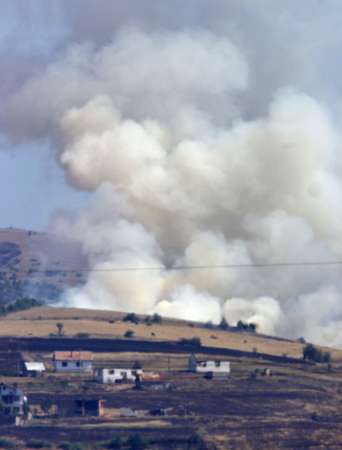 Thick smoke rises from a house which was hit by an artillery shell in the Macedonian village of Aracinovo June 24, 2001. Macedonian forces resumed their assault on Sunday on the village held by ethnic Albanian guerrillas despite frantic efforts by the international community to restore a truce. REUTERS/Peter Andrews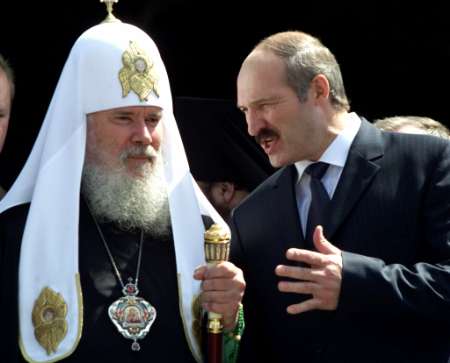 Belarussian President Alexander Lukashenko chats with the head of the Russian Orthodox Church, Patriarch Alexiy II (L) June 24, 2001, during the consecration of an Orthodox cathedral in Brest -- on the Polish border. Alexiy, who says his visit was planned long before that of Pope John Paul to Ukraine, is touring Belarus as part of commemorations marking the 60th anniversary of the Nazi invasion of the Soviet Union. REUTERS/Vasily Fedosenko
Macedonia 'agrees ceasefire'
BBC
The Macedonian Government has halted its offensive against ethnic Albanian rebels holding a village close to the capital, Skopje, reports say.

The move followed talks between the European Union's senior foreign policy official, Javier Solana, and President Boris Trajkovski.

The government's move comes three days after the Macedonian army broke an 11-day ceasefire to recapture the village, Aracinovo, from where hundreds of rebels had been threatening to bomb the capital.

Military sources say the army ceased its attacks at about 1200 GMT - but so far it is unclear what the ethnic Albanians' response will be.

Acrimonious

A BBC correspondent in Skopje says it is understood that the discussions between the Macedonians and the EU were extremely acrimonious.

The Macedonian Government had been insisting that it would not cease operations until it had recaptured Aracinovo.

The EU has been making huge efforts to persuade the Macedonian Government and the rebels to reach a settlement.

President Trajkovski has been refusing to negotiate with the rebels.
Rebels Said Surrendering in Macedonia.
AP
By Konstantin Testorides
Associated Press Writer

Sunday, June 24, 2001; 12:39 p.m. EDT

SKOPJE, Macedonia The government claimed insurgents ensconced in a key Skopje suburb had hoisted a white flag and were negotiating surrender terms, while a senior European Union official said Sunday that the two sides had agreed on a cease fire in that area.

The surrender claim, from a senior government official who demanded anonymity, came amid intense diplomatic pressure on the leadership to restore a cease-fire broken Friday by renewed fighting around Aracinovo, a remote suburb of Skopje.

Any rebel setback at Aracinovo would give an important boost to the government and its armed forces, which have been unable to gain decisive victory over the insurgents in more than three months of conflict that has left dozens of government troops dead.

Commenting on the Aracinovo situation after meetings with government leaders, Javier Solana, the European Union's security and foreign affairs minister, said: "There will be a cease-fire, and I hope very much that ... (it will) extend to the rest of the country."

Solana later met with Western ambassadors in Skopje before flying to Luxembourg, site of a top-level EU meeting Monday on the Macedonian crisis.

Both the government official and the rebels confirmed a limited cease-fire, without going into details.

A rebel spokesman, Commander Hoxha, denied government claims of a surrender by insurgents, saying instead that fighters in Aracinovo had received orders to pull back to the nearby village of Matajce, pending the arrival of NATO troops for an unspecified role.

Macedonian state television reported that its field crew had spotted several white flags flying over Aracinovo rooftops. Army officials said they were monitoring the situation, to rule out a possible trap.

The government official said the rebels in Aracinovo were ready to surrender but only on condition that NATO troops come "urgently to disarm them."

Earlier Sunday, police confirmed that three members of special police units were killed in fighting late Saturday around Aracinovo. Nine other officers were wounded, one critically, police said.

For days, the army has targeted Aracinovo in its efforts to purge the area of the ethnic Albanian rebels. Ethnic Albanians make up a third of Macedonia's 2 million people, and the rebels say their fight is for more rights. The government accuses the insurgents of seeking to split ethnic Albanian-populated areas away from the rest of the country.

Western officials have condemned Friday's end to the cease-fire that had calmed the violence for 11 days. NATO Secretary-General Lord Robertson called the resumption of hostilities "complete folly" and urged political leaders to "get serious" about producing an agreement.

NATO has offered to send troops to help disarm rebels once a peace deal is reached, but Robertson re-emphasized that NATO would not get involved in policing any partition of the country. "That would be a blueprint for disaster," he said.

President Boris Trajkovski said the latest government attack was intended to protect "vital centers of the capital and communications" used by NATO and the NATO-led peace force in neighboring Kosovo.

Trajkovski is pressing the country's ethnic Albanian political leaders to accept his peace plan, which calls for an amnesty for most rebels who disarm voluntarily and greater inclusion of ethnic Albanians in state bodies and institutions. The EU backs the plan.

The most contentious issue has been changes to the constitution. Trajkovski's plan includes the removal of references to ethnicity or religion and adding Albanian as a second state language.

Ethnic Albanian parties are seeking more far-reaching changes, such as making Macedonia a federation of two nationalities. Macedonian Slav parties reject that as a threat to the nation's survival and caving in to the rebels.
Macedonian paramilitaries threaten to start killing Albanians.
AFP
SKOPJE, June 24 (AFP) -

A shady Macedonian paramilitary group has sparked panic among ethnic Albanians in one of Skopje's main markets, threatening to kill storekeepers and burn their shops if they do not pack up and leave the area by midnight Monday.

When Mushi, 28, went to open his store in the Madzari market in the west of the capital on Saturday morning he found a poster stuck to his wall, signed by the "Macedonian Paramilitary 2000."

"All shiptars (a derogatory name for ethnic Albanians) who have shops around the market are to leave with their property within three days," said the poster, stamped with the insignia of a lion rampant.

"If they do not then all their shops will be burned. If anyone stays behind they will be killed without a second thought," it warned.

"Of course I am scared," said Mushi, who together with around 50 Albanian neighbours running a string of spartan shops was packing his belongings into a van and shipping out.

The district is close to Aracinovo, a small town on the outskirts of Skopje taken over by ethnic Albanian rebels of the self-proclaimed National Liberation army (NLA) two weeks ago.

The army last week launched a major offensive against the guerrillas, who claim to be fighting to end widespread discrimination against Macedonia's large Albanian minority.

The fighting ended in yet another shaky ceasefire Sunday, but the tensions sparked by the five-month Albanian uprising are already spiralling out of control, driving a wedge between the Albanian community and the Macedonian Slav majority.

The paramilitaries, a murky group thought to be connected to groups of football hooligans and police reservists with criminal links mistakenly given arms in a recent mobilisation, have given the shopkeepers until midnight Monday to leave.

In a chilling echo of the ethnic cleansing which swept through neighbouring Yugoslavia during the 1992-95 Bosnian war, the ominous message read: "After that we'll have a cleansing -- the longest night."

It also warned other ethnic minorities -- Turks, Bosnians, Roma gypsies and Vlachs -- not to trade with Albanians, "as this directly funds the Albanian terrorist narco-gangsters. If they do their shops will be burned."

The Albanian shops must keep the poster on the wall even then or be torched, the statement said.

The group -- also known as the Lions after the Macedonian national symbol -- said they would start punishment killing against Albanians if lethal attacks on police and troops, which have claimed more than 30 lives, do not stop.

In a grim itemised list of the price to be paid for each attack, it said that for every policeman or soldier killed, the paramilitaries would kill 100 ethnic Albanians.

For every security officer crippled, 50 Albanian will die, while an injured policeman will be paid back with 10 killings, it added.

While taking the latter threat with a pinch of salt, the traders did not at all underestimate the arson threat.

After eight police and soldiers were killed in a rebel ambush in April, Macedonian rioters in the southern town of Bitola rampaged the streets for two nights, torching around 50 shops.

A report by the New York-based Human Rights Watch accused police of failing to curb the violence or even joining in.

Mushi said he had gone to the police -- predominatly Macedonian Slav -- but had been told there was nothing they could do. The police were not available for comment Sunday.

"Things are definitely getting worse," said Mushi, as his neighbours formed a human chain to pass boxes and sacks from their storehouse next door.