Enter content here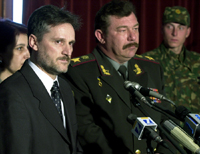 EXCELLENT COOPERATION BETWEEN MACEDONIAN AND UKRAINIAN DEFENSE MINISTRIES.
MIA
Macedonian Defense Minister Ljuben Paunoski and his Ukrainian counterpart Olexander Kuzmuk met Wednesday in Skopje to discuss the current situation in Macedonia and in the region.

Minister Paunoski positively assessed the cooperation between Macedonia and Ukraine and between the Defense ministries of these two countries. The cooperation results from the mutual trust and the signed documents so far. During the meeting the ministers exchanged their opinions, suggestions and experiences.

Paunoski and Kuzmuk, jointly stated that one should decisively respond to those that endanger the territorial sovereignty and integrity of one country as well as the personal security and property of the county's residents.

"The Macedonian security forces have done that in the past month and a half and will continue to do that as long as the rights and the citizens are endangered," Paunoski stressed, pointing out that Macedonia has the international support due to the fact that "Macedonia has real policy of open and constructive cooperation with the neighbors and all European countries and as a result of the Macedonian contribution in order to stabilize the region after the breakup of the former Yugoslavia."

According to Paunoski, the preservation of the Macedonian stability will preserve the ground principles of Europe for inviolability of the borders by force and terrorism. "By that we support the success of the international mission in Kosovo and other parts of former Yugoslavia. The stability of Macedonia enables the efficiency of the KFOR's mission in Kosovo," he stated.

Kuzmuk stressed that the relations between Macedonia and Ukraine are being developed intensively and efficiently.

"We reviewed the basic aspects for long term cooperation between our ministries in the future," Kuzmuk.

He underlined that they had same positions on the discussed issues. "The direction determined by the Macedonian and Ukrainian presidents during their meeting in Kiev, oblige us to continue and deepen the mutual relations," Ukrainian Foreign Minister stated.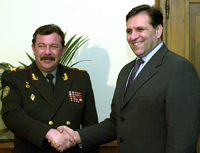 PRESIDENT TRAJKOVSKI RECEIVES OLEXANDER KUZMUK.
MIA
Macedonian President Boris Trajkovski received Wednesday Ukrainian Defense Minister Olexander Kuzmuk.

The meeting, which was also attended by the Macedonian Defense Minister Ljuben Paunoski, aimed to inform Trajkovski on the intensive cooperation between the two ministries, as the cooperation significantly contributes toward the further enhancement of the friendly relations between Macedonia and Ukraine. Ukraine reaffirmed the support on the Macedonian territorial integrity and sovereignty, strongly condemning the terrorist attacks.

Trajkovski thanked to his Ukrainian counterpart Leonid Kuchma, emphasizing the significance of the Ukrainian diplomatic support to Macedonian territorial integrity and sovereignty during the extremist attacks.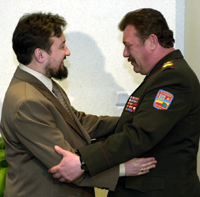 PRIME MINISTER GEORGIEVSKI RECEIVES UKRAINIAN DEFENSE MINISTER KUZMUK.
MIA
Macedonian Prime Minister Ljubco Georgievski received today Oleksandr Kuzmuk, Ukrainian Defense Minister.

Macedonian Defense Minister Ljuben Paunovski was also present at the meeting.

Georgievski and Kuzmuk expressed satisfaction from the traditionally good relations between the two countries and belief that the cooperation between the two ministries of defense will be more enhanced even more in the future.

In that context, Prime Minister Georgievski thanked for the support that Ukraine provided to Macedonia so far.

Minister Kuzmuk supported Macedonia's efforts for maintaining its territorial integrity and sovereignty and positively estimated the actions undertaken by the security forces.

He also sharply condemned the terrorist attacks against Macedonia and appealed to the international community to oppose to the Albanian terrorists more seriously.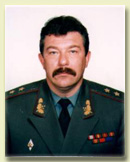 Ukranian Defense Minister, Oleksandr Ivanovich Kuz'muk.
Macedonia, Ukraine Bolster Defense Ties.
SKOPJE, Apr 4, 2001 -- (Agence France Presse) The defense ministers of Macedonia and Ukraine met in Skopje Wednesday to discuss increased military cooperation as a battered but not quite beaten rebel movement continued to threaten the region.

"Macedonia and Ukraine have had excellent, useful relations in the past two years, and these will continue to develop ... particularly in the defense sector," Ukraine's General Olexander Kuzmuk told reporters.

Kuzmuk said he had discussed the security situation in the Balkans, including recent clashes between Skopje's troops and ethnic Albanian rebels, with his Macedonian counterpart Ljuban Paunovksi.

Macedonia has been re-arming since its independence in 1991, buying many of its weapons from former Soviet bloc nations.

Ukraine recently announced that is was to sell eight helicopters to bolster Macedonian security forces, including four powerful Mi-24 gunships. The cost of the contract has not been revealed.

Two of the Mi-24s have thought to have been involved in a rocket attack on suspected rebel positions ahead of the March 23 offensive that drove rebels off the hills north of Macedonia's second city, Tetovo.

"We regard this military cooperation and the supply of two helicopters as important and concrete support for maintaining stability in Macedonia, the region and Europe as a whole," Paunovksi said.

Kuzmuk, who had earlier met President Boris Trajkovksi and Prime Minister Ljubco Georgievski, was to remain in Skopje for Thursday's meeting of defense ministers from eastern and southern Europe.

Skopje says the rebel National Liberation Army has been defeated as a military force, but rebel commanders in the field told AFP Tuesday they were still active.

Meanwhile police said Wednesday that a rebel group had attempted to infiltrate the Debar area on the Albanian border.
Regional Peacekeeping Force Proposed for Macedonia.
Reuters
SANDANSKI, Apr 4, 2001 -- (Reuters) A seven-nation Balkan region peacekeeping force might be used to patrol the volatile Macedonia-Kosovo border, officials said on Wednesday.

Top generals involved in setting up the force said a decision on whether to deploy the untried Multinational Peace Force South-Eastern Europe (MPFSEE) was up to the politicians but militarily they were all but ready.

"If we are ordered by the seven nations, members of the Multinational Peace Force, we are prepared to deploy peacekeeping troops along the Macedonia-Kosovo border to enforce patrols," said Brigadier General Hilmi Akin Zorlu.

The Turkish officer, speaking by telephone from Bulgaria's second city Plovdiv, is the commander of MPFSEE which is also known as South-Eastern Europe Brigade (SEEBRIG).

The 4,000-strong force was set up in 1999 and has not yet been used. Its members are Greece, Turkey, Italy, Bulgaria, Albania, Romania and Macedonia.

Bulgaria's official BTA news agency quoted Prime Minister Ivan Kostov as saying in Greece on Tuesday that the seven countries would exchange opinions on the deployment idea, which would need the backing of the United Nations.

"The idea for the eventual use of SEEBRIG has been discussed on a preliminary basis," Defense Ministry spokeswoman Tanya Kazandjieva told Reuters, adding that it had to be a joint decision.

Military sources said Bulgaria and Greece were initiators of the idea. The two countries' top generals said they were ready.

Zorlu said the decision had to be taken by all states involved, although some of them might chose not to take part.

"I must stress we would not be involved in any operation involving fighting," Zorlu said.

Macedonian security forces have been fighting ethnic Albanian guerrillas for a month. It says they infiltrate across the mountainous border from Kosovo.

Macedonia's forces are ill-trained and ill-equipped to guard the unmarked frontier. NATO-led KFOR peacekeepers now patrolling on the Kosvo side say they do what they can but also find it difficult to seal the frontier completely.

Bulgaria's army chief of staff General Miho Mihov said after a Greek-Bulgarian military exercise in southern Bulgaria that SEEBRIG was almost ready for deployment.

"We will have one more training in June and after that we would be able to say we are ready for peacekeeping operations in the region...if there is a need to shore up diplomatic and political effort," he said.

His Greek counterpart Manousos Paragioudakis said: "We do not decide that but if the politicians take this decision, Greece is ready."
OSCE Seeks Census Delay to Ease Macedonia Tension.
Reuters
SKOPJE, Apr 4, 2001 -- (Reuters) Macedonia should postpone a census planned for the second half of May to avoid inflaming ethnic tensions strained by a rebellion among its Albanian minority, a top international official said on Wednesday.

Max van der Stoel, the OSCE's Minority Rights commissioner, said the census could not be properly prepared and well enough monitored to inspire confidence in minority ethnic Albanians.

It risks repeating the problems of the 1994 count, which ethnic Albanians say was constructed so as to under-represent their numbers and undercut their claims for a greater share of jobs and resources in Macedonia.

A proper census is a key demand of ethnic Albanians who argue their high birth rate means they already number at least around 35 percent of Macedonia's two million people, not the 22.9 percent declared by the 1994 statistics.

But to go ahead with the count so soon after a revolt by ethnic Albanian gunmen along the northern border could be counter-productive. Ethnic Albanians would accept a delay provided a new date was firmly set, said Van der Stoel.

"In the present difficult circumstances everything has to be done to prevent a repeat of the 1994 experience," said the Organization for Security and Cooperation in Europe's official, who has worked extensively to ease ethnic tension in Macedonia.

It was too late to start the necessary information campaign and organize proper foreign monitoring of the census, he told Reuters.

Macedonia has returned to calm after its forces quelled the month-long insurrection by guerrillas it said were bent on breaking up the 10-year-old state. The rebels said they were fighting for greater rights for downtrodden ethnic Albanians.

Now majority Slavs are being urged to be even-handed and to make concessions to ease the ethnic Albanian anger that fuelled the revolt, lest it re-erupt.

The government says it is not currently planning to ask parliament to change the law to permit a census delay.

"We are not afraid of the census but we are ready to listen to the suggestions of the international community," government spokesman Antonio Milosovski told Reuters. "Right now I can't tell you what our final decision will be."

Diplomats say the recent violence has radicalized both sides, pushing them further apart. It will be very hard to maintain the quickened pace of improvements in the position of minorities achieved in the last two years, say Western envoys.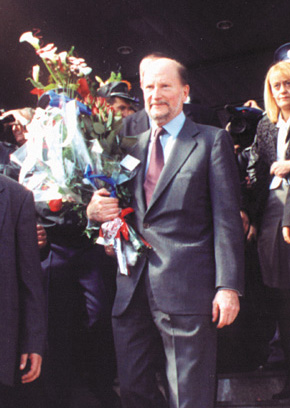 Lyulin Stamenov/Sofia Echo

Bulgaria's exiled king Simeon Saxe-Coburg arrived in Bulgaria Wednesday, and was greeted at Sofia Airport by dozens of people shouting "Monarchy," "On the throne," and "Simeon."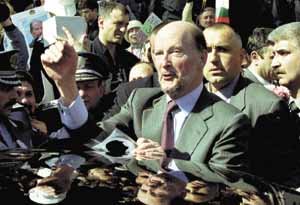 The Bulgarian Tzar arrives to Sofia.
Standart News
It Is Not In My Nature To Stand In Someone's Way
Wait until Friday, the King said

- Your Majesty, have you been persuaded not to lead a campaign against the UDF?
- Who is campaigning 'against' in the first place?
-Let's start from this. There is not anything against UDF.
- It is rumored that some people visited you and they reportedly asked you not to stand in the way of UDF.
- There is nothing 'against' It is not in my nature to stand in someone's way, believe me.
- How will you participate in politics?
- Wait until Friday.
- What will your messages be.
- You will hear them on Friday.

- How would you comment on the events in Macedonia?
- This is all their internal affair. And it is very serious. There are people who are responsible for that.
- Can you define as timely the agreement with NATO, to be ratified by the Parliament?
- An agreement with NATO is always positive

Royalists, a Bishop and MPs Welcomed the King
The appearance of His Majesty caused such a turmoil that the 'Ipon' bodyguards and policemen at the airport had difficulties to protect him

An hour before Simeon II landed the arrivals hall at the Sofia airport was full - some 200 enthusiastic royalists came to welcome the King. The welcoming party upped there time singing old emigrants' songs, read poems or delivered speeches. 'We are fed up with Peter and Ivan. Let the King come back, let us have 10 children per family, let us breed,' cried an old lady. 'There was a king and again there will be', shouted at the top of her lungs another woman. Bishop Illarion, Kamen Kostadinov, deputy leader of the new parliamentary group of Hristo Bisserov, Dimitar Ivanov, head of the royalist society 'Prosvetlenie' (Enlightenment), Valentin Kitanov, IMRO deputy leader, and representatives of "Tsarstvo Bulgaria' (Kingdom of Bulgaria) Federation, came to welcome Simeon II. The appearance of the King caused turmoil that the bodyguards from the 'Ipon' security firm and the police at the airport could hardly safeguard Him. The chanting of slogans 'Simeon' and 'We want our King back' were gradually replaced by protests of welcomers angry that they were not allowed to touch His Majesty. It was difficult to escort the King to a Mercedes waiting for him to take him to the 'Vrana' palace.

Anelia Basheva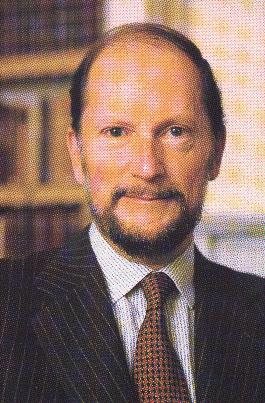 Czar Simeon II arrived in Bulgaria.
News.bg
Czar Simeon II arrived in Bulgaria today. He refused to speak for the media and said that he will announce something extremely important on Friday, April 6. Concerning comments on the media, he announced that nobody could exert pressure on him. He also refused to comment the situation in Macedonia. His Majesty said that he has come because he had been invited to take part in the European Popular Partys forum that starts tomorrow in Sofia. Concerning the agreement with the NATO, he expressed his approval.
Ex-king to unveil political plans.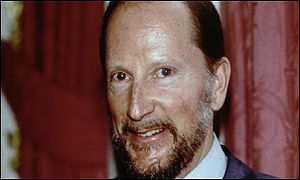 The former king is expected to unveil his political intentions.
The exiled former king of Bulgaria, who arrived home on Thursday, has been given a warm reception by his supporters in the capital Sofia.

Ex-King Simeon II, now a Madrid-based businessman, is expected to unveil his political intentions ahead of Bulgaria's legislative elections in June.

"You will hear on Friday. It will be interesting," he pledged to his supporters at the airport but he refused to say whether or not he was planning on putting forward an opposition movement.

The former king has captured the public imagination since announcing in February that he would seek a political role.

But the constitutional court has banned him from contesting presidential elections later this year, leaving him legislative polls as the only alternative.

New political party

Shortly after the verdict against him running for presidency had been passed, the former king assured "all the thousands of people who are looking for a way to vote for Simeon, they will be able to do so".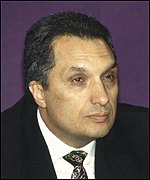 Mr Kostov's critics formed a new political party.
Meanwhile, dissenters from the ruling centre-right coalition announced they were forming a new political party to support his bid to enter Bulgarian politics.

At the core of the new party, known as the Conservative Union (EKIP), are eight critics of Prime Minister Ivan Kostov, who have now resigned from his party, the Union of Democratic Forces (UDF).

"EKIP fully supports the stated will of His Majesty King Simeon II to take part in the Bulgarian political life", the party said in a statement.

"EKIP unconditionally supports His Majesty," it added.

The new party issued a memorandum saying it would seek a broad coalition after elections due on June 17.

Analysts say it may attract about 15% of the vote, mostly from disenchanted UDF supporters.
Former King Arrives in Bulgaria to Reveal Political Plans.
Agence France Presse
SOFIA, Apr 4, 2001 -- (Agence France Presse) Former Bulgarian King Simeon II arrived back in his country to the cheers of supporters on Wednesday, and was expected to unveil his political intentions ahead of Bulgaria's legislative elections in June.

At the airport, sympathizers waving banners which read "welcome back for good" met the former king, who has been looking for ways to involve himself in Bulgarian political life after spending over half a century away, most of it in exile.

The constitutional court has banned him from running in the autumnal presidential elections, leaving him legislative polls as the only alternative.

"You will hear on Friday. It will be interesting," he pledged his fans, while assuring he did not plan to offend anyone.

"It's not in my nature to upset anyone," he said, but refused to say whether or not he was planning on putting forward an opposition movement to run against the right-wing ruling coalition, the United Democratic Forces.

Shortly after the verdict against him running for presidency had been passed, Simeon II assured "all the thousands of people who are looking for a way to vote for Simeon, they will be able to do so."

And he told London's Daily Telegraph last month: "I am going back to enter Bulgarian politics full-time with a view to winning a majority with a coalition of political groups".

Simeon became king at the tender age of six after the death of his father Boris III in 1943, but was expelled in 1946 by communist authorities after Bulgaria was proclaimed a republic following a referendum.

He was welcomed by hundreds of thousands of supporters when he returned during the economic crisis in May 1996, after 50 years in exile.
Bulgaria's Turks Warn of Ethnic Strife Over Exclusion.
Agence France Presse
SOFIA, Apr 4, 2001 -- (Agence France Presse) A leader of Bulgaria's Turkish minority party warned Wednesday that the government could only ensure long-term ethnic peace in the country by channelling more funds and power to the country's Muslim community.

Emel Etem implied that the clashes sparked off by ethnic Albanians in neighboring Macedonia could be mirrored here if her 700,000-strong community remained excluded from the economy and positions of political power.

"Bulgaria is not isolated. The conflict can move from the west to the east, across our borders," Etem, vice-president of the Bulgarian Movement for Rights and Liberties, told the newspaper 24 Chassa.

She reproached the government for "not having assured investment in our regions", in the northeast, the south, and the southeast of the country.

According to the party, unemployment is as high as 60 to 70 percent in the Muslim areas in comparison with the national average of some 20 percent.

Etem also demanded that more be done to bring her party, which has 12 deputies, "to every level of power".

During the country's communist era, Muslims were forced to change their names to Bulgarian names. Some 320,000 Muslims of Turkish origin left the country in the late 1980s.

After the collapse of communism in 1989, they were allowed to take their original names back but many have continued to migrate for economic reasons.
Berlin Offers Funds for Tetovo Albanian University.
Reuters
BERLIN, Apr 4, 2001 -- (Reuters) Germany has pledged one million marks ($457,000) to help fund a planned private Albanian university in the northern Macedonian town of Tetovo, center of a recent ethnic uprising.

A row over Albanian language higher education is seen as a root cause of the recent violence between Macedonian authorities and ethnic Albanian rebels. Radicals running an unrecognized Albanian university in Tetovo back the rebels and some pupils have joined the fighters.

In a statement, the German foreign ministry said on Wednesday the proposed university, to be financed from international funds and recognized by Macedonia, would "offer the Albanian population recognized higher education in their own language in their own country".

The German government has said it supports Macedonia in its bid to quell an uprising by Albanian "terrorists" but has called on Skopje to address Albanian complaints of discrimination.
Albanian Rebels Demand Seat at Talks With Macedonian Government.
Agence France Presse
NORTH OF LIPKOVO, Apr 4, 2001 -- (Agence France Presse) Ethnic Albanian rebels, including a renegade member of parliament, demanded face to face talks with the Macedonian government, rejecting claims that they have been defeated.

"We want to resolve the problems politically," rebel commander Ali Daja -- "Uncle Ali" -- told an AFP reporter who was taken to a secret location in hills norths of Skopje late Tuesday.

"Negotiations can not take place without us," he said, saying direct talks between political representatives of his National Liberation Army and the government should be held.

Daja said rebels were still present in all of Macedonia's majority Albanian villages, along with the capital Skopje.

The Macedonian government said on Saturday the Albanian guerillas had been conquered and that the fighting was over. The border with the neighboring UN-administered Yugoslav province of Kosovo was reopened on Tuesday.

Hisni Shaqiri, a member of the moderate Democratic Party of Albanians (DPA) which forms part of Macedonia's coalition government, defected to the rebels last week.

Wearing camouflage fatigues and carrying a Kalashnikov assault rifle, she told AFP his decision to give up elected politics had been "a moral obligation."

"The Macedonian army is ravaging Albanian villages and, as an Albanian, I felt the moral obligation to join the rebels. Today, it feels very good, I am at the service of the people," he said.

"Our war is a just one. All we are asking for are equal rights with Macedonians," he said.

His defection last week underscored the growing unease among Albanian politicians in the conflict and prosectors said they had filed charges against him.

He took to the hills a day after hundreds of Macedonian troops used his village as a springboard for an offensive to flush Albanian rebels out of their last remaining strongholds close to the Kosovo border.