Enter content here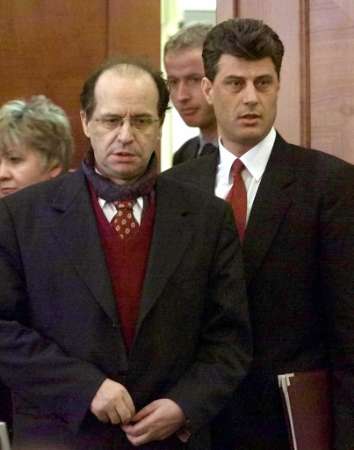 The leaders of the Kosovo's ethnic Albanians Ibrahim Rugova (L) and Hashim Thaci leave the room after their meeting with the U.S. Secretary of State Colin Powell in Skopje on April 13, 2001. Colin Powell cancelled plans to travel to Kosovo on Friday and met its U.N. governor and ethnic Albanian and Serb leaders in Macedonia, the latest Balkan country rocked by violence. REUTERS/Oleg Popov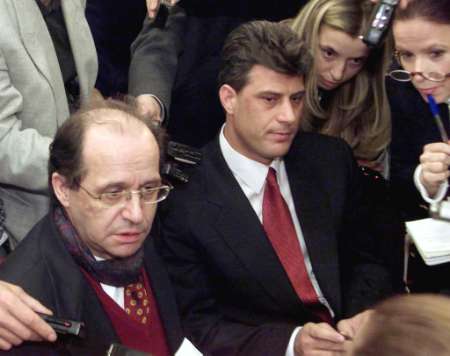 The leaders of the Kosovo's ethnic Albanians Ibrahim Rugova (L) and Hashim Thaci (R) speak to the media after their meeting with the U.S. Secretary of State Colin Powell in Skopje April 13, 2001. Colin Powell cancelled plans to travel to Kosovo on Friday and met its U.N. governor and ethnic Albanian and Serb leaders in Macedonia, the latest Balkan country rocked by violence. REUTERS/Oleg Popov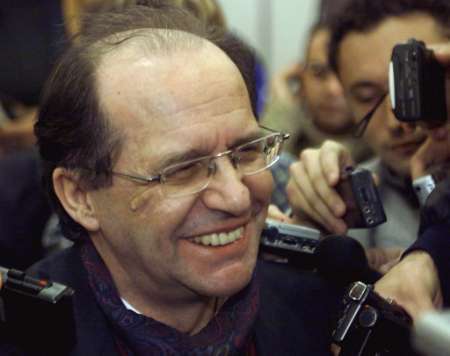 The moderate Kosovo ethnic Albanian leader Ibrahim Rugova speaks to the media after the meeting with the U.S. Secretary of State Colin Powell in Skopje on April 13, 2001. Colin Powell cancelled plans to travel to Kosovo on Friday and met its U.N. governor and ethnic Albanian and Serb leaders in Macedonia, the latest Balkan country rocked by violence. REUTERS/Oleg Popov
Bulgarian army turns professional.
Sofia Echo
By Annie Rusinova

The percentage of career soldiers in the Bulgarian Army must reach 70 per cent of all servicemen, said Chief of General Staff General Miho Mihov on Friday.

Presently, a large part of the army operates on a conscription system. Any 18-year-old male must serve in the army for a period of nine months. University graduates are required to serve for six months.

A plan for the organisational structure and development of the Ministry of Defence until 2004 was introduced in 1997. According to this plan, the reform of the Bulgarian Army should be complete by 2004.

The transformation of the Bulgarian Army from a conscript into a professional one started on November 1, 1997. At present, there are 2,364 hired servicemen in the Bulgarian Army.

The militarys top priorities are the Quick Response Forces and the Forces for Participation in Peacekeeping Operations. During the initial stage, 100 per cent of the Air Forces and the marine staff of the Navy Forces will be hired. Later, efforts will be concentrated on recruiting 100 per cent of the special Land troops (chemical defence, engineer, communications troops).

By 2004, the Army is expected to have a peacetime personnel of 45,000. About 4,000 of this will be Navy, about 10,000 Air Force, and about 20,000 Land Troops, explained Mihov.

The availability of career soldiers, and a trained body of servicemen in reserve will assure Bulgarias security in emergency situations, such as a war, he said.

The reasons behind the transformation of the Bulgarian Army into a professional one are the short term of conscript army service, and the inability to prepare the staff to use and upkeep the sophisticated army equipment.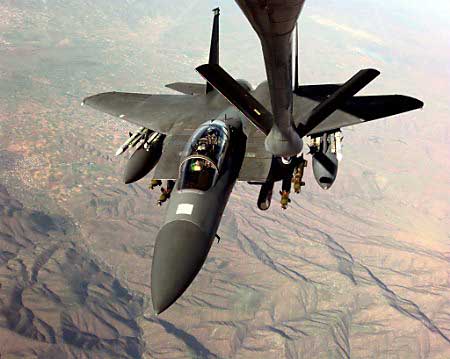 The world's largest aircraft maker, Boeing Co., on April 13, 2001 said it had finalized a $571.1 million deal with the U.S. Air Force to make 10 F-15E fighter planes. The deal covers airframes and other components for the F-15E, but does not cover engines, which the Air Force will buy separately. Deliveries of the planes should start in 2001. An F-15E is seen during refueling operations over Macedonia in this March 26, 1999 file photo. (Scott Reed/U.S. Air Force via Reuters)