Enter content here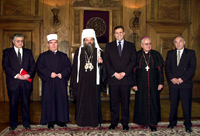 PRESIDENT TRAJKOVSKI RECEIVES THE HIGHEST RELIGIOUS OFFICIALS IN MACEDONIA.
MIA
Macedonian President Boris Trajkovski received Friday Head of the Macedonian Orthodox Church - Stefan, Head of the Islam Religious Community - Reis ul-Ulema, Bishop of the Skopje and Prizren Bishopric Joakim Herbut, Head of the Jewish Community - Viktor Mizrahi and Pastor of the Methodist Church Mihail Cekov.

At the meeting, President Trajkovski was given full support in his efforts to restore peace and stability in the country.

Trajkovski and his guests shared opinions on the ongoing political dialogue in Macedonia.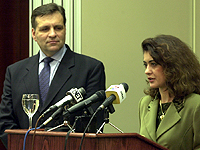 PRESIDENT TRAJKOVSKI PROMOTED THE CENTER FOR EUROPEAN INTEGRATION.
MIA
President Boris Trajkovski promoted today the foundation "Center for European Integration" at the Holiday Inn hotel in Skopje.

President Trajkovski said that establishment of this Foundation proves that "we need to show readiness and adjust ourselves to the new reality."

"With the signing of the Stabilization and Association Agreement the Republic of Macedonia practically became associative member of the EU," he stressed.

President Trajkovski said that Macedonias goal is clear: to become full-fledged member of the EU and to take its place in the joint European family.

"Today we are facing questions regarding the manners for adjusting to the European standards and norms. We must also start thinking how to build a strong civil society and in that process we can certainly count on our friends from the EU. However, we need to complete that process by ourselves," he said.

"Macedonia has always urged to become leader in the development of the Southeast Europe. This task demands rule of the law, strong democracy, developed trade, free movement of people, capital and ideas. Now is the time when we need to make all commitments for strengthening of the democracy and economic prosperity," the President stated.

Executive director of the Center for European Integration Sonja Petruseva-Piperkovska reported that the Macedonian Government had invested 1,5 million Denar in the Foundation. The further financing, aimed at programs for coordination of the Macedonian with the European legislation, would be provided by domestic and foreign grants.

In addition, Klime Babunski from the Institute for Sociological and Political Research, Laurence Francesini from the European Institute for Media and Can Batarceye from Article 19 referred to the role of the media in the process of enhancement of the legislation.
Macedonian Police Defuse Bomb in Capital.
Reuters
SKOPJE, Apr 20, 2001 -- (Reuters) Macedonian police defused a handmade bomb near a railway track and local hospital in the capital Skopje on Friday, authorities said.

They said the incident was serious because of what they called threats by ethnic Albanian guerrillas to launch "urban terrorism" if talks on granting Macedonia's minority Albanians more rights fail.

Macedonian security forces drove out ethnic Albanian rebels from their strongholds in the hills of northern Macedonia near the border with Kosovo in late March.

But the rebels denied they had been defeated and vowed to take up arms again if political negotiations to give Macedonia's Albanians equal status with the majority Slavs do not succeed.

A police statement said the explosive was found by residents in a plastic bag in the densely populated Kisela Voda district a few meters from the railway line and the local hospital.

"The anti-terrorist unit responded immediately and disabled the device," the police statement said.

Police said earlier they had seized large amounts of weaponry in areas recaptured from the guerrillas and arrested dozen of ethnic Albanians on charges of illegal arms possession.
Albanian children sold into slavery.
BBC
The London-based charity, Save the Children, says that thousands of Albanian children and young women are being sold into sex slavery across Europe.

In a report today, the charity says that there are fifteen-thousand Albanian prostitutes in Italy alone.

The charity says that urgent action is required to combat poverty and poor education in rural Albania.

It says that the problem is so great in some rural areas that up to ninety per cent of girls over the age of fourteen stay away from school because they fear they will be kidnapped.

It adds that as long as the current economic conditions prevail, the rewards of kidnapping and trafficking would remain a temptation.
Call to Arms by Macedonian Albanian Rebel Deputy.
Agence France Presse
SKOPJE, Apr 20, 2001 -- (Agence France Presse) An ethnic Albanian deputy who quit parliament to join guerrillas fighting the Macedonian government called on his brethren to also take up arms, in an interview published here Friday.

"It is the duty of every ethnic Albanian to take up a rifle" and to "settle the problem with a rifle," said Hysni Shaqiri, a deputy of the Democratic Party of Albanians (DPA), which is a member of the government coalition.

Shaqiri left his constituency of Lipkovo, a mountain village just north of Skopje, last month and ran off to join the self-styled National Liberation Army (NLA), which claims to be fighting for more rights for Macedonia's large ethnic Albanian minority.

He told the weekly Lobi that for 10 years, the Macedonian Slav majority had "turned a deaf ear to Albanian rights and demands."

"Our army is deployed in all the Albanian-populated areas and is ready at any moment to respond to the Macedonian military and police forces," said Shaqiri, 52.

He said the NLA had ordered a month-long ceasefire to give the government time to make good on promises to start a political dialogue with ethnic Albanian leaders. He did not say when it would expire.

It was the first time a rebel figure has mentioned a temporary end to hostilities or a deadline.

The guerrillas suddenly disappeared at the end of March, after weeks of intense clashes with the army and special police, prompting the government to say the rebels were broken as an organized force.

A government spokesman said some of them had changed into civilian clothes and stayed in Macedonia, while others were believed to have fled to mainly-Albanian Kosovo, which Skopje blames for generating the crisis.

Shaqiri said the talks between the government and members of the ethnic Albanian community would not succeed "because the government is not willing to change the constitution."

One of the main demands of the Albanians, both rebels and political leaders, is that they be named as one of the nations making up Macedonia, as are the Macedonian Slav majority, in the constitution's preamble.

At present, they are named as a minority, which they say makes them second-class citizens.

The government has so far refused to discuss the constitution, seeing an amendment as a way to federalize the multi-ethnic state and open the door to secession by Albanian-populated areas.

But a senior Western diplomat said in Skopje last week that the constitution would be on the agenda for talks, though not immediately.

Shaqiri is liable to be charged for incitement to armed rebellion for previous calls to his constituents to take up arms against the government, authorities have said.
Bulgaria Seeks Meat, Cheese Concessions From EU.
Reuters
SOFIA, Apr 20, 2001 -- (Reuters) Bulgaria's farm ministry said on Friday it had urged the European Union to abolish or ease tough licensing requirements for Bulgarian meat and cheese exporters.

"We will not start this year's trade negotiations (with the EU) until it reviews and eases its current tough licensing regime for our meat and cheese exporters within agreed duty-free imports quotas," a senior ministry official told Reuters.

"Bulgaria is not able to fulfil even 10 percent of the duty-free quotas granted by the EU due to the tough licensing," the official added.

In 2000 Bulgaria scrapped import duties for 470 farm goods originating from the EU in return for a reciprocal step by Brussels as part of Sofia's efforts to join the bloc.

Bulgaria and the EU also set annual duty-free quotas for items including pork, chicken meat, cheese, fresh vegetables and fruit. Quotas should be updated in the middle of each year. But the Balkan country has not yet exported anything from last year's 6,050-ton duty-free quota of chicken meat and 1,500-ton quota of pork because the EU has not licensed any of Bulgaria's 570 meat producing farms, the official said. The fulfillment of the 5,500-ton duty-free cheese quota is below five percent because the EU has licensed only four of Bulgaria's 280 dairy farms to export to EU member states.

EU restrictions on imports of Bulgarian pork and chicken meat imposed several years ago due to discrepancies in quality and veterinary standards also posed problems, said the official.

Bulgaria has shut down 311 meat producing and processing farms and 230 dairy farms that failed to meet EU requirements.

Farm minister Ventsislav Varbanov said he had asked EU farm officials in March to lift imports ban for Bulgarian livestock.

"Our country is free both from mad cow and foot-and-mouth diseases and there is a strong export demand for our animals and meat. I received a pledge and a commitment that the restriction will be reviewed," Varbanov told Reuters.

Bulgaria's meat exports have been falling steadily over the past decade due to falling production and lost markets.

Last year Bulgaria exported 6,000 tons of poultry meat, flat from 1999. This compared with 9,000 tons exported in 1998 and some 43,000 exported 10 years ago, the Union of Poultry Producers said.

An estimated 3,000 tons of pork were exported last year compared with 175 tons in 1999 and 20,000 in 1991, the Union of Pig Producers said.

Pork and poultry meat output fell 50 percent over the past decade to 230,000 and 100,000 tons, respectively, in 2000.
Bulgaria Sees Increase in Tourism.
RFE/RL
SOFIA, Apr 20, 2001 -- (RFE/RL) Deputy Premier and Economy Minister Petar Jotev said on 19 April that the government expects the recent increase in tourism to continue, BTA reported.

Jotev said that more than $1 billion was spent by foreigners on tourism in Bulgaria last year and that Bulgaria was among the top five countries in Europe for total number of foreign tourists.

He added that foreign investment in tourism in the country last year was some $137 million and that more than 90 percent of the tourist industry has been privatized.