Enter content here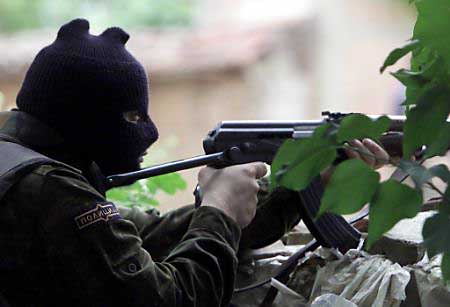 A masked Macedonian soldier watches the outskirts of Matejce village May 23, 2001. The village, which has a mixed population of Slav Macedonians and ethnic Albanians, became an effective front line three weeks ago after ethnic Albanian rebels occupied several mountain villages north of Matejce. (Radu Sigheti/Reuters)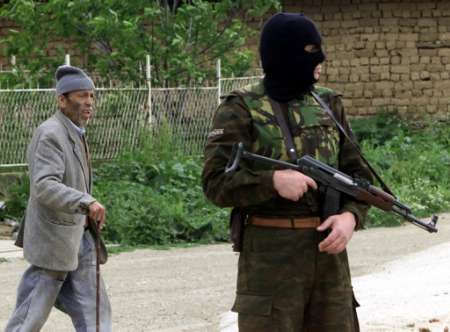 A villager looks at a masked Macedonian soldier at a junction in Matejce village May 23, 2001. The village, which has a mixed population of Slav Macedonians and ethnic Albanians, became an effective frontline three weeeks ago after ethnic Albanian rebels occupied several mountain villages north of Matejce. REUTERS/Radu Sigheti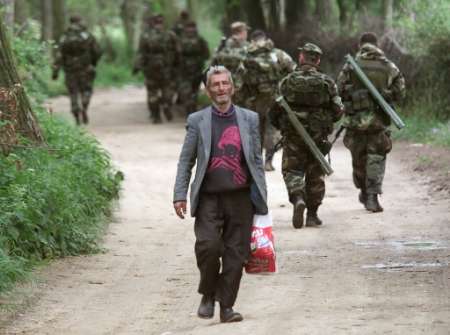 An elderly ethnic Albanian man walks next to a group of Serb policemen on a road near the town of Vranje, some 236 miles (380 km) south of the capital Belgrade May 23, 2001, during a mopping up operation. Yugoslav government forces are ready to enter the sector "B," a strip of land around 22 miles long by three miles wide on the border with Kosovo, on May 24. REUTERS/Goran Tomasevic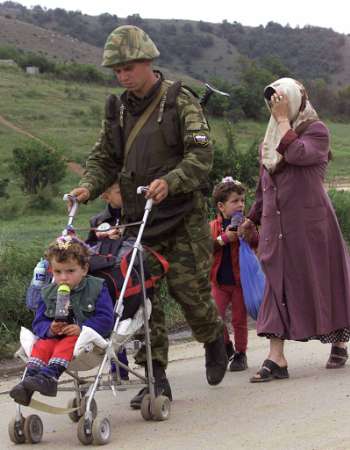 Russian KFOR soldier helps an ethnic Albanian woman with her children near the village of Muhovac May 23, 2001. More than 3,600 ethnic Albanians entered Kosovo in the last 10 days and 360 ethnic Albanian guerrillas who operated in Southern Serbia have turned themselves in since last Wednesday. REUTERS/Hazir Reka
The government will convoke an urgent meeting because of the situation in Macedonia.
News.bg
The government will convoke an urgent meeting of the Security Council to the Premier because of the situation in Macedonia today at 2:30 PM. Defense Minister Boyko Noev, who had informed the Cabinet Ministers about deterioration of the situation in Macedonia, proposed the todays meeting. He expressed his expectations that all the political factors in Bulgaria would take position on the situation in Macedonia in view of its seriousness. According to him, a necessity for Bulgarian political factors to update and develop their position about the events in Macedonia in view of the concrete situation in the moment has already appeared. Todays meeting of the Security Council will discuss concrete measures that Bulgaria would propose to the international community.
Macedonia fights on two fronts.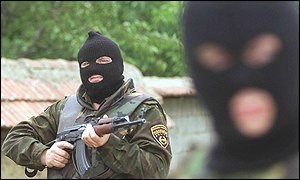 Macedonian special forces take on the guerrillas.
There has been renewed fighting in the hills above Macedonia's second city, Tetovo, a day after ethnic Albanian rebels ambushed and wounded several policemen.

The area had been quiet for more than two weeks, until Wednesday morning's bombardment, which reportedly continued until around noon.

The new clashes represent a second front in the three-month-old conflict between guerrillas and government forces.

On the conflict's other front, north of the capital Skopje, fighting flared again on Wednesday afternoon. There were reports of powerful explosions and gunfire.

Rebels have been occupying a string of villages there for the last three weeks.

Neighbouring Bulgaria has called for an international peacekeeping force to be sent to Macedonia, describing the situation there as worrying.

"We increasingly doubt whether the Macedonian authorities can handle the situation by themselves," said Bulgarian Defence Minister Boiko Noev.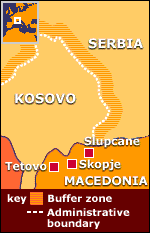 Retaliation

The BBC correspondent in Skopje, Nick Thorpe, says there are fears that the rebels may be trying to reoccupy villages in the hills near Tetovo - the country's unofficial ethnic Albanian capital.

Police said the officers who were wounded had been driving along a country road outside the city when they were hit by mortar fire.

"We immediately sent reinforcements to the area," said a police spokesman. "We retaliated with force."

Trapped civilians

Macedonia's security council said on Tuesday that holding peace talks with the rebels was out of the question, and denounced them for refusing calls to disarm.

Though they say they are fighting to improve the situation of ethnic Albanians in Macedonia, they are widely believed to be seeking to join parts of the country to Kosovo or Albania.

Aid agencies say around 10,000 civilians may remain in the rebel-held villages in the north of the country, huddling in basements when they come under bombardment.

Ethnic Albanian political leaders have warned that they may plunge the country into an even deeper crisis if these civilians are hurt, by withdrawing from a broad coalition government formed last week.

Kosovo Albanians disarm

In neighbouring Serbia, ethnic Albanian rebels in the Presevo valley have agreed to continue their struggle by political rather than military means.

Hundreds have passed into UN-administered Kosovo in the past few days, handing in their weapons to Nato-controlled peacekeepers.

However, correspondents say that some hardline rebels may remain in the area.

Diplomats and Macedonian officials have expressed fears that some of the guerrillas could cross from Serbia into Macedonia to reinforce the rebels there.
People In Sliven: God Sent the King.
Standart
His Majesty made an appeal to the Bulgarians for dialogue and good will.

Simeon II called for dialogue and understanding at his yesterday's visit to the town of Sliven. His Majesty came by the invitation of initiative committee. 'Now I'm here for a short time, but God grant from now on will get together in a flourishing and developed country with job for everyone, the plants will operate and we will live a better life, His Majesty addressed the Sliven citizens. The people greeted him loudly and chanted his name. The King went round the welcoming party and shook hands with many of the people. 'God chose him', said elderly Sliven citizens. ' Hold on, Your Majesty, we are with you', everyone said. Simeon II put flowers at the monument to 'Hadji Dimitar'. Mayor Assen Gagaouzov came especially for the occasion, even though he was on leave. He is the BSP (Bulgarian Socialist Party) candidate for MP.
Anelia Basheva
Ethnic Albanian rebels released from jail in hope other militants will surrender.
Stars and Stripes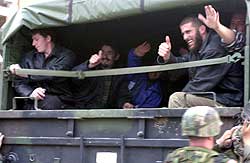 Scott Schonauer / Stars and Stripes
Freed ethnic Albanian guerrilla fighters wave from the back of a U.S. Army truck Monday night in Vitina, Kosovo.
By Scott Schonauer, Kosovo bureau.

GNJILANE, Kosovo Arton Shala was unsure where he would stay the first night as a free man. Perhaps with family in the area, he said. But it didnt seem to matter.

After three months in an Army jail, any place would do for the former ethnic Albanian guerrilla fighter.

Im finally free, he said.

U.S. soldiers freed Shala and 17 other ethnic Albanian rebels Tuesday night in a goodwill gesture they hoped would convince renegade ethnic Albanian militants in southern Serbias Presevo Valley to surrender.

NATO-led peacekeepers are trying to avoid possible bloodshed when the last portion of a buffer zone between Kosovo and southern Serbia is opened to Yugoslav security forces on Thursday.

It appeared late Monday night that a last-ditch effort by NATO to convince the guerrillas to settle rather than fight the Yugoslav army had worked.

Just before the freed men were dropped off in the Kosovo villages of Vitina and Gnjilane, the commander of the Liberation Army for Presevo, Medvedja and Bujanovac (UCPMB in Albanian) agreed to disband the guerrilla group by the end of the month. Sheftket Musliu signed a declaration of demilitarization, effectively ending a 16-month battle waged by ethnic Albanians to gain full control of a region rebels have referred to as eastern Kosovo.

Although NATO considered the demilitarization statement a step in the right direction, there are concerns that at least one commander would ignore the agreement, plunging the area into a small, but bloody battle.

Muhamet Xhemajli has argued against peacefully dealing with Yugoslav security forces and vowed last week that his men will continue to fight. Rebels have used the buffer zone as safe haven to retreat to because both Yugoslav and NATO forces cannot enter.

There also is speculation that the rebels may join fighting in Macedonia, where another armed group claims to be fighting for more rights for ethnic Albanians.

Last week, the top commander for the Kosovo peacekeeping force, KFOR, offered amnesty to militants who quit and crossed the border before Yugoslav troops enter the buffer zone.

Guerrillas released by the peacekeepers and those granted amnesty must agree they will not engage in extremist activity, but NATO officials admit there is little they can do to stop them from heading south for another war.

NATO spokesman Squadron leader Roy Brown said it is up to Macedonia to prevent extremists from crossing into the country and joining the National Liberation Army.

Minutes after U.S. soldiers freed him, Shkelzen Zeneli nodded when asked if he would fight another war.

He planned to leave the guerrilla way of life, but did not rule out joining militants in Macedonia if Bulgaria and Ukraine jumped in to help bury the rebels.

For the moment, no, we will not fight. The war is over, he said through an interpreter. But if Bulgaria and Ukraine help, we will help. They are Albanians like us. They want freedom.

Another freed fighter, who would not give his name, said he also would fight again in the Presevo Valley if asked.

I will support the UCPMB as long as Im alive, he said after being detained for 43 days at Camp Bondsteel, the Armys largest base in Kosovo.

Many of the men who talked to Stars and Stripes requested anonymity because they feared reprisals from Serbs inside Kosovo and a backlash from disappointed rebel commanders.

Most said they would try to find jobs in Kosovo and wait until they are allowed to return to Presevo. Although they said they were treated well by U.S. military police at the jail, they criticized peacekeepers for incarcerating them.

Before giving amnesty to rebels, NATO soldiers arrested suspected ethnic Albanian extremists. Last week, the U.S. Army held more than 100 suspected militants.

With an agreement signed by one key rebel commander, Brig. Gen. Kenneth Quinlan, commander of Kosovos U.S. peacekeeping sector, might let more detainees go if the rest of the militants also agree to disband.

The scraggly-bearded Shala, carrying a plastic bag that included a toothbrush, razor and what little money he had, harbored no ill feelings toward peacekeepers. He was just relieved to be out of jail.

Im planning to work and to try and stay alive, he said when asked his plans. The war is not good.

The demilitarization statement signed by Musliu and Shawn Sullivan, head of NATOs office Yugoslavia, will likely put pressure on any dissident rebels.

As part of the agreement, Yugoslavias government offered several confidence-building measures, including a training program for an inter-ethnic police force based near the Kosovo boundary, the Associated Press reported.

Yugoslav forces have retaken about 80 percent of the buffer zone around Kosovo, but the last section, Sector B, is considered the most dangerous. That is where the most hardened rebels are located.

NATO has beefed up forces along the border leading up to Thursday, when thousands of Yugoslav troops will enter the buffer. Quinlan said Sunday that patrolling the boundary afterward could be the most dangerous mission peacekeepers have faced since they arrived two years ago.