Enter content here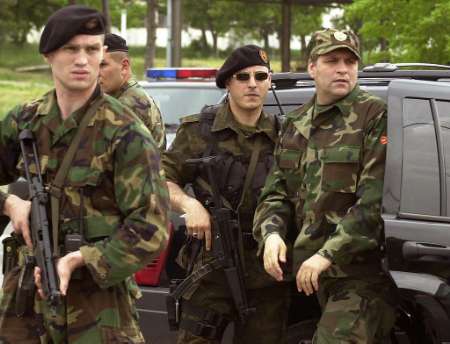 Macedonian President Boris Trajkovski (R), dressed in a military uniform, arrives at the army barracks in the town of Kumanovo, some 32 kms (20 miles) north-east from the capital Skopje on May 19, 2001. The Macedonian army resumed the shelling of the ethnic Albanian guerrilla's stronghold village of Slupcane on Saturday near the town of Kumanovo. REUTERS/Ognen Teofilovski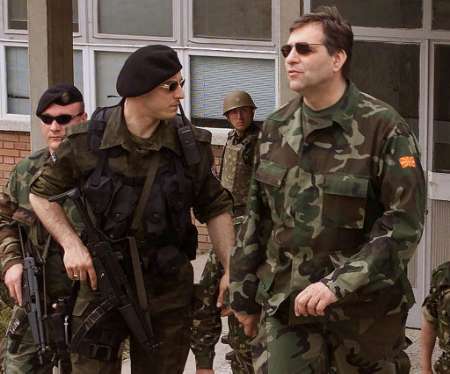 Macedonian President Boris Trajkovski (R), dressed in a military uniform and surrounded by special Macedonian police unit members, walks an the army barracks in the town of Kumanovo, some 32 kms (20 miles) north-east from the capital Skopje on May 19, 2001. The Macedonian army resumed the shelling of the ethnic Albanian guerrilla's stronghold village of Slupcane on Saturday near the town of Kumanovo. REUTERS/Oleg Popov
DNEVNIK: "WE REFUSE ULTIMATUMS, WE WON'T DROP OUR WEAPONS"
DNEVNIK
Dnevnik, 19 May - "Those that have weapons do not accept ultimatums, and we did not take up arms to drop it," stated in the interview for the Skopje Albanian weekly magazine "Lobby" the commander of the so-called NLA, Shpatim Ostreni.

In his comment on the situation with the civil population in that region, he says "they can determine their own actions by their own free will, but they have a great number of their children in NLA."

"We are staying on our land till the end," answers Ostreni the question about how he sees the ultimatums issued by the Macedonian Government and adds that he expects the Government to continue issuing ultimatums directed to them.

The NLA commander claims "it is beyond the honor of our people to hold someone as a shield, once we have taken up weapons" and he repeated their demands for equality "with the Slovenes" and for changing the Constitution of the Republic of Macedonia.

"It is obvious that we are not terrorists. We have never endangered the population and our fight is directed towards the governmental power." Asked about the information according to which there are mercenaries fighting within NLA, he says: "who else would fight for the rights of the Albanians, besides the Albanians themselves."

Ostreni denies the information that that military formation has captured civilians, claiming that only "parasoldiers who are safe and sound" have been captured.

"We demand no greater bloodshed between the Macedonian and the Albanian people to be done, because we are convinced that we should continue living together," stated Ostreni for the "Lobby" magazine.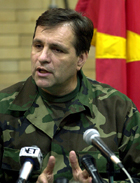 PRESIDENT TRAJKOVSKI VISITS MACEDONIAN TROOPS IN KUMANOVO AREA.
MIA
The supreme commander of the Macedonian armed forces, President Boris Trajkovski visited some of the Macedonian soldiers and policemen, positioned in the first battle lines on Saturday, and was briefed on the current field situation.

After this President Trajkovski visited the barracks "Boro Menkov" in Kumanovo, where the Head of the Macedonian Army General Staff, Jovan Andrevski and the officers commanding the operations in the field reported to the Supreme commander about the current situation and the further activities of the Macedonian Army.

The Macedonian President said that he is extremely satisfied with the professionalism, moral and courage of the Macedonian Army and Police positioned in the first battle lines, pointing out that no one should doubt the final victory and the defeat of the terrorists, but it must be done patiently and avoiding casualties.