1, March-2001.
2, March-2001.
3, March-2001.
4, March-2001.
5, March-2001.
6, March-2001.
7, March-2001.
8, March-2001.
9, March-2001.
10, March-2001.
11, March-2001.
12, March-2001.
13, March-2001.
14, March-2001.
15, March-2001.
16, March-2001.
17, March-2001.
18, March-2001.
19, March-2001.
20, March-2001.
21, March-2001.
22, March-2001.
23, March-2001.
24, March-2001.
25, March-2001.
26, March-2001.
27, March-2001.
28, March-2001.
29, March-2001.
30, March-2001.
31, March-2001.




Friday.

Enter content here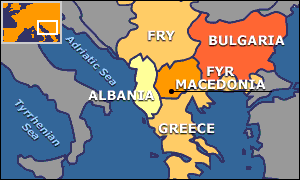 Macedonia's neighbours' fears.
BBC
Several countries are attentively following the conflict

By the BBC's South East European analyst, Gabriel Partos
Serbia's Prime Minister, Zoran Djindjic, has called on Nato and the rest of the international community to isolate ethnic-Albanian militants in Kosovo to help put an end to the fighting involving ethnic Albanians in the former Yugoslav Republic of Macedonia.

Mr Djindjic's comments came on the day - Friday - the Bulgarian Parliament urged broad international assistance to prevent the destabilisation of Macedonia; and it coincided with the despatch of a consignment of Greek military materiel to Macedonia.


The skirmishes between ethnic-Albanian militants and Macedonian security forces, which have been going on for a week, may be on a relatively small scale, but their protracted nature has signalled a worrying development compared to the previous isolated incidents.

For the first time, there appears to be an attempt by ethnic-Albanian guerrillas to carve out a "no-go zone" as far as the Macedonian forces are concerned.

And the latest reports speak of an attempted link-up between ethnic-Albanian guerrillas in Macedonia and those in the Presevo valley of southern Serbia.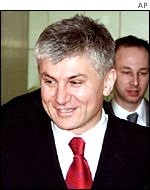 Serbian Premier Zoran Djindjic wants rebels isolated

There's mounting concern that the continuing clashes in Macedonia could lead to more widespread fighting involving much larger sections of Macedonia's ethnic-Albanian community and the predominantly Macedonian Slav security forces.

The consequent destabilisation of Macedonia could then spill over to the territory of its neighbours - which would become the destinations for large inflows of refugees.

Foes turned friends

Macedonia's collapse may be no more than a remote possibility. But the current clashes and the accompanying tension have already induced several countries to offer their help to Skopje to nip the potential explosion in the bud.

Bulgaria

Bulgaria has sent military aid to Macedonia this week, and the Bulgarian President, Petar Stoyanov, has even suggested that his country may despatch troops to protect the Macedonian border against infiltration from Kosovo.

However, the Bulgarian Government has since clarified this proposal by saying Bulgarian troops would only get involved as part of an international peacekeeping force.

Macedonia has welcomed this help.

But in the longer term many Macedonians are somewhat worried that the friendly embrace of the culturally and linguistically closely related Bulgarians could become too tight for comfort.

That is because Bulgarians remain reluctant to acknowledge that Macedonians are a separate nation.

Greece

Greece has also been quick to supply military materiel to Macedonia as part of its support, but Athens' relations with Skopje are highly complex.

On the one hand, Greece has become the largest foreign investor in Macedonia. On the other hand, it still hasn't fully normalised its relations with its northern neighbour.

And Greece continues to object to Macedonia's very name, which it claims implies a territorial claim to its northern province which bears the same name.

Serbia

Serbia - as the dominant part of Yugoslavia - feels it has been proved right by the latest fighting.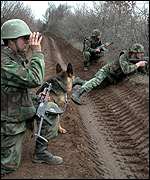 Yugoslav troops will move into buffer zone

Belgrade has been arguing for some time that the ethnic-Albanian militants of Kosovo, Macedonia and southern Serbia represent the main threat to Balkan stability.

Partly as a result of the latest clashes - both in the Presevo valley and in Macedonia - the Yugoslav army has now been authorised by Nato to prepare to move into the demilitarised buffer zone on Serbia's boundary with Kosovo to stem the ethnic-Albanian cross-border infiltration.

Although Belgrade has been demanding this concession, Yugoslav President Vojislav Kostunica has responded to Nato's new initiative in an ambiguous way.

He has denounced the Nato-led K-For peacekeepers in Kosovo for abandoning the protection of the border and inviting Yugoslav troops to be in the cross-fire.

The Belgrade authorities are calling for a co-ordinated regional response to the ethnic-Albanian militants - a move Serbia's neighbours would probably not accept without Nato's involvement.

Albania

Albania has condemned the use of force by ethnic-Albanian militants, though Tirana has made it clear that the Albanian side should not be singled out for criticism.

However, with elections due within the next three months, the Albanian authorities are concerned that the potentially emotive subject of Albanian minority rights in neighbouring countries could become a serious election issue.