1, March-2001.
2, March-2001.
3, March-2001.
4, March-2001.
5, March-2001.
6, March-2001.
7, March-2001.
8, March-2001.
9, March-2001.
10, March-2001.
11, March-2001.
12, March-2001.
13, March-2001.
14, March-2001.
15, March-2001.
16, March-2001.
17, March-2001.
18, March-2001.
19, March-2001.
20, March-2001.
21, March-2001.
22, March-2001.
23, March-2001.
24, March-2001.
25, March-2001.
26, March-2001.
27, March-2001.
28, March-2001.
29, March-2001.
30, March-2001.
31, March-2001.




Friday.

Enter content here
Macedonia fighters dig in.
BBC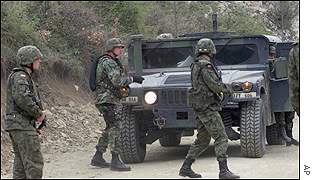 The deployment of K-For observers has had little impact on fighting.
Friday, 30 March, 2001, 00:08 GMT 01:08 UK
By Nick Wood near the Kosovo-Macedonia border

There is little sign of a quick end to the fighting that has pitted Macedonian troops against ethnic-Albanian rebels in the north of the country.

Tanks, mortar and light artillery have been used to shell positions held by guerrillas near the village of Gracani, close to the border with Kosovo.

There is no sign of the gunmen withdrawing.

The fighting has continued intermittently for over a week, and there is little to indicate that it will stop soon.

Dug in

As many as 200 ethnic Albanian guerrillas have based themselves here, hidden in bunkers and shallow trenches.

The front line is manned by more experienced fighters, who have been responding to the Macedonian shelling with machine gun and mortar fire.

Further back, new recruits sit tightly packed in their shelters, smoking cigarettes and waiting for the command to move forward, if and when required.

All around, the shell and mortar fire appears to get closer, but after eight days, it is amazing that so few people have been injured.

The guerrillas' base is barely a few hundred metres from the border with Kosovo.

Kfor watches

Overhead, helicopters from the Nato-led peacekeeping force in Kosovo, K-For, hover watching the fighting.

Below, US and Polish soldiers patrol from time to time.

Their attempts to stop the gunmen from reaching the camp seem to have had little impact.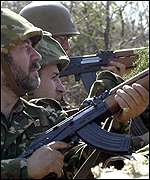 Macedonian forces have failed to dislodge the rebels

The fighters appear to be able to pass in and out of the area unhindered.

Late last week, the Macedonian Government was claiming significant progress in its attempts to quash the National Liberation Army (NLA).

The NLA has been pushed back from the villages around the country's second-largest city, Tetovo.

But so far, their efforts near Gracani have had little impact and the shell fire has failed to dislodge the rebels from their fox-holes.

But the Macedonian Government has yet to deploy troops here in large numbers.

K-For is also due to send British and Scandinavian troops to the Kosovo side of the border.

Those developments will be a new test of the NLA's nerve.